Wacom have been flat out releasing new products over the past 3 months. We can tell you that our Wacom Touch Centre now has the complete range of the new products.
As a result of this huge update to the Graphics Tablet range, We're clearing out earlier models that are unopened & sealed in their packaging at discounted prices:
Wacom Intuos Pro (Medium) – was $429, now $359 (save $70)
Wacom Intuos Pro (Large) – was $639, now $549 (save $90)
We also have an ex-demo Wacom Cintiq 13HD – was $1099, now $799 (save $300)
Now onto the newly released range of tablets:
Wacom Intuos Pro Paper Edition (Medium)
Wacom Cintiq Pro 13″
Wacom Cintiq QHD 27″
Wacom MobileStudio 13″
Wacom MobileStudio 16″
All of our Touch Centre tablets have the complete Adobe Creative Cloud suite loaded, ready and waiting for you to take them for a test drive. This is the only place in WA you can put these great tools through their paces, so please come in and spend as much time as you like on the latest goodies from the clever people at Wacom.
We also offer a course on how to set up and get the most out of your Wacom. This seminar is free for anyone that purchases a Wacom Tablet from Team Digital.
We now offer free freight on a select range of Wacom tablets. Please contact us to talk about this further.
Not sure which Wacom tablet is right for you?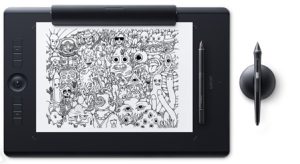 The Intuos Pro is a great place to start as it's a fairly low cost investment compared to other models but still has all the great features you've come to expect from Wacom: programmable Express Keys & Touch Ring, Pen & Gesture input, & much more, including over 8000 levels of Pen tip sensitivity. The Intuos Pro is now also available in Paper Edition, which is great for any creatives who like to work with analogue medias. The Paper Edition is just like the standard edition, but with one pretty great added feature: you can clip a sheet of paper onto the drawing surface & capture both an analogue & digital version of your creation simultaneously. We've seen a similar function in other earlier Wacom products, but this is the first time it's been integrated into the Graphics Tablet range.
Moving up the range, we have the Cintiq Pro, Wacom's entry-level tablet with built-in HD display, now with 89% Adobe RGB colour accuracy.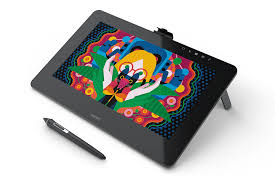 Available in 13″ & 16″ sizes with a streamlined minimalistic design, this is a great product for those who are short of desk space. If you can't work without Express Keys or the Touch Ring, which have been removed from this sleek little number, you can add the Express Key Remote for a small additional cost.
Next in the lineup is the Cintiq 27QHD. Available in Touch or non-Touch versions, this beast of a tablet will need room on your desk for it's 16:9 widescreen, 97% Adobe RGB display, but it's absolutely worth it. If you want a greater range of positions and angles, the optional Cintiq Ergo Stand is available. Wacom are offering the Express Key Remote at a discounted rate when it's purchased with this tablet.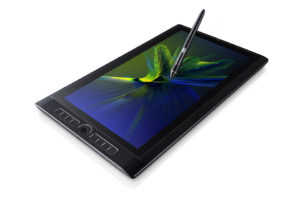 Last but not least is the brand-new MobileStudio Pro. Designed for Professionals who want the freedom to create anywhere, this lightweight mobile pen computer is amazing. With higher pen sensitivity than previous models, the computing power to run demanding 2D, 3D, and CAD software, and exceptional graphics, it's a phenomenal creative tool.
Both the 13″ & 16″ models are available in a range of processor & storage specifications to suit a large range of creative requirements. Select models include an integrated Intel RealSense camera for capturing 3D scans.
If you're still unsure which model to purchase, you may wish to rent it instead. We have a rental system that allows you to try a Wacom tablet for either 6-months or 12-months at a very reasonable rate with no obligation to purchase at the end of the agreement. Of course if you're happy with the tablet you've been renting, the purchase-outright price takes into account the rental fees you've paid so far. Contact us to discuss this option in more detail.
So whether it's the portability and power that the Wacom MobileStudio Pro provides, or you just want to improve your creativity and productivity with Wacom's other fantastic graphics tablets, Wacom & Team Digital have you covered.