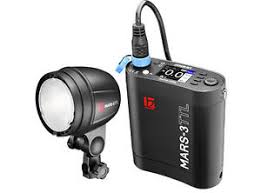 Jinbei Mars 3 is the exciting new HSS TTL super Micro battery powered camera flash system. Incredibly lightweight with a head that's only 200 grams and a base unit that weighs 1700 grams.  Recycle of 0.3 – 1.3 seconds for fast shooting, 250 Watt output means only 1-stop less than the much loved HD610.  Freeze mode up to 1/19000 of a second and a frame rate that offers up to 20 frames per second. 10 watt LED modeling lamp. TTL functionality with Canon and Nikon (Sony to follow shortly). The Mars offers industry best features and far outperforms other much more expensive systems on the market. When you compare it to Speedlites on the market it wins hands down in power output and light quality.
Add a TR611C trigger and control Canon 600EX RT flashes natively – yes, that means we can link it up with your existing Canon 600EX flashes. With the New TRQ6 Bluetooth trigger for Android and Apple based app control of multiple Mars units, or 600EX units, or HD610 units (only for Canon and Nikon users). The TRQ6 allows us to control all the features of the flash including power, mode, modelling, plus more.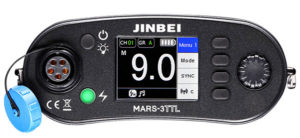 The Mars 3 Controller has to be the simplest on the market. Access all the functions without complicated menus just three main menu panels that can be accessed by one button – it couldn't be simpler. It has the same control panel as the Jinbei HD610.
1 x Charger, Carry case, Shoulder Bag, Head protection Bag, Strap, Battery, Main Power unit, and Head included in the standard kit.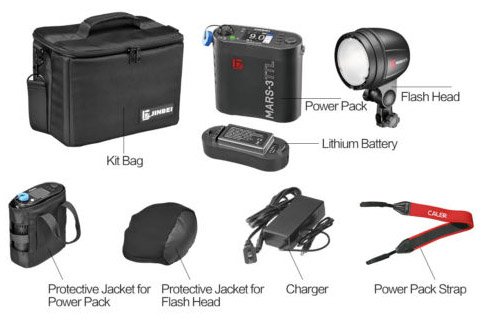 We will be selling the Jinbei Mars 3 portable lighting system complete with all these extras.

60cm Octobox
Folding Camera Bracket
Barndoor set
Honeycomb grids
Coloured Gel set
Everything you could need to put this system straight to work (or play).
At only $769 incl. GST this is a great addition to anyone's photography kit.
See WA's Jinbei specialist for all thing Jinbei. And if you want something a little more powerful, we have the Jindei HD610 check out the review.