What does the Atmosphere Aerosol do ?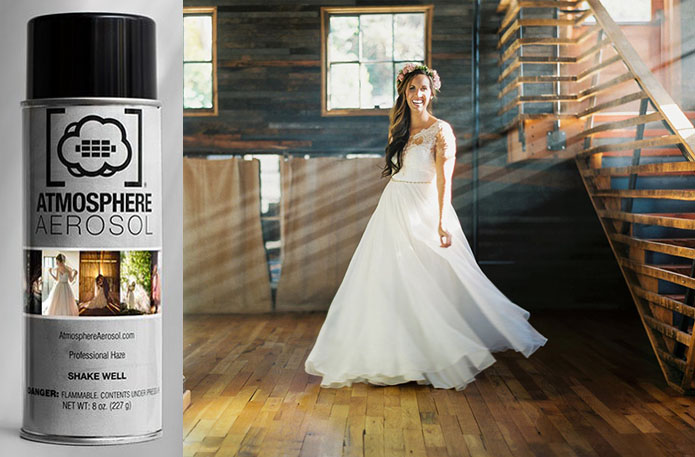 It enables photographers and filmmakers to quickly, easily, and safely create fog or haze for photos and film.
How does it work?
Shake can well before using.
Spray in room or still area for 20 seconds or more.
Atmosphere Aerosol will linger in the air for several minutes.
VERY IMPORTANT! Back lighting is required to see haze or fog. Position and amount of light will determine the look of the fog or haze.
Re-spray as needed.
Here's a little video of Atmosphere Aerosol in Action.

As you see the Atmosphere Aerosol can create some amazing effects that wedding or portrait photographers can use at anytime, anywhere – a great little product that is a great addition to any photographer's kit. Now in stock at Team Digital.
Here's some answers to questions we've been asked about Atmosphere Aerosol.
Number 1 question: How long will it last? How long is a piece of string. You can get just over 5 min of spray; usually we use about 20 to 30 sec per shot.

Number 2: Will it set off a fire alarm? NO – unless you spray it at the fire alarm.
Number 3: Will it stain dresses, suits, and carpets? No, it's a clear non-staining spray.
Number 4: Is it safe for users or subjects? Yes, as long as you don't spray it directly into anyone's face.