Drobo is arguably the best mid-size storage solution available on the market. Drobo have introduced some new offerings to the range. First is the super fast Drobo 5C.
Stand Alone Solution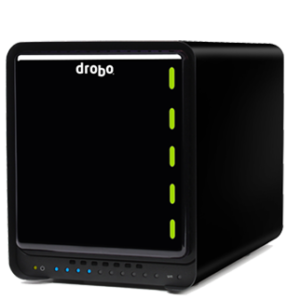 The Drobo 5C is the latest generation of the award-winning platform that started it all. It holds true to the unique design and simplicity that has made Drobo the best desktop storage solution for storing and protecting all your data. Whether you are at home or in the office storage expertise is not required to ensure your data is always safe and protected. It includes the state-of-the-art USB Type-C connector for a simple way to attach the Drobo to your PC or Mac. USB-C is compatible with both USB 3.0 and USB 2.0.
Inside every Drobo is the revolutionary BeyondRAID storage technology that protects data against a hard disk crash, yet is simple enough for anyone to use. As long as you have more than a single disk in Drobo, all data on Drobo is safe no matter which hard disk fails. There's no need to worry about anything else.
It includes a 64TB volume size, protects data against hard drive failures and sudden power outages, while also using advanced self-healing. By creating a second volume it will protect your computer's operating system and application files.
At under $600 it represents great value. We also supply and fit hard drives to suite your needs.
Office / Studio Network Solution  
The latest generation Drobo 5 Bay NAS, the Drobo 5N2 delivers an unparalleled user experience for data sharing, secure backup, remote access and disaster recovery solutions. The 5N2 is the fastest, network attached Drobo available to prosumers and provides up to 2x performance boost with an upgraded processor and port bonding option. The 5N2 is built with Drobo's patented BeyondRAID™ technology to meet the demanding data storage requirements of connected home users, media professionals and small businesses. The expanded functionality includes technology features of Drobo's enterprise level products, such as DroboDR for disaster recovery backup. By implementing a level of automation usually preserved for more expensive solutions, and still maintaining the award-winning simplicity found in all Drobos, the 5N2 is the easiest to use NAS on the market.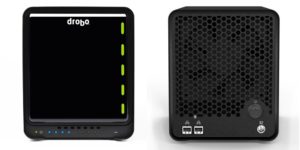 Drobo 5N2 is designed to optimise and simplify workflow in connected homes and small office environments using Drobo's simple, safe and smart BeyondRAIDTM technology. Using the solution as a central backup in a connected home, multiple computers can speedily access the rich media files. Small office environments can utilise secure file sharing and Drobo's Disaster Recovery (DR) feature to automatically backup the data to an offsite 5N2. To extend the functionality of the Drobo, 5N2 is compatible with the myDrobo App Platform, allowing for remote access to data, media streaming and cloud backup.
Team Digital has been selling and supporting Drobos for over 9 years. Call in to discuss your storage needs with our resident Drobo specialist Trevor.