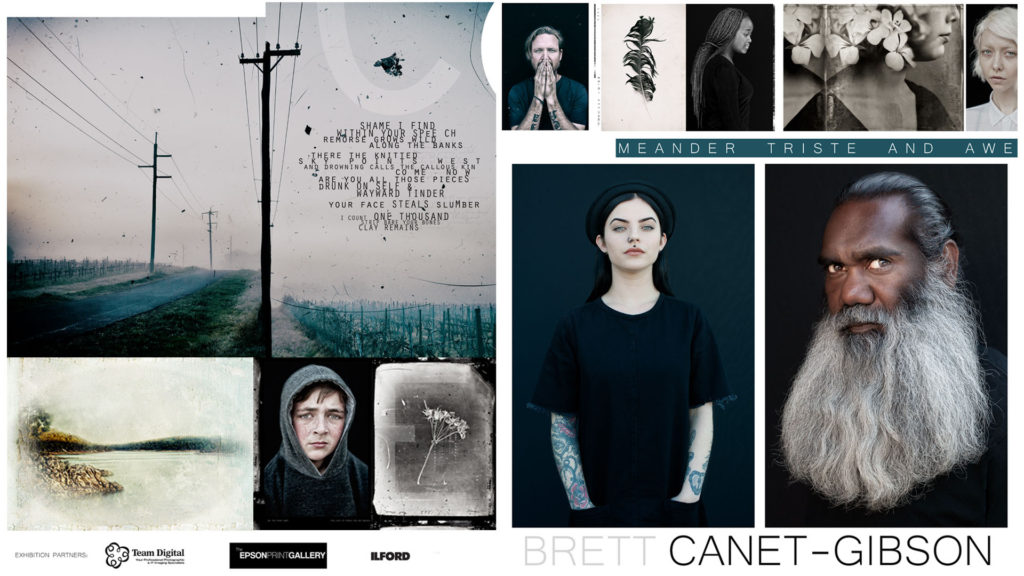 Join us for the launch of "Meander, Triste and Awe: A Book Unbound" Exhibition, proudly brought to you by Team Digital, Ilford, Epson Print Gallery and Twine – Ideas That Bind.
Showcasing images by award-winning photographer and visual artist, Brett Canét-Gibson, this event is one not to be missed! Renowned for his artistic style and unique approach to portrait photography using just natural light and a portable backdrop on the streets of Perth, Canét-Gibson sees "every object as a subject".
The exhibition and presentation will feature 200 pages of portraits, still lifes, landscapes, found objects, poetry and thoughts captured as part of his soon-to-be-published visual journal project.
Get your free ticket to the launch 
BIOGRAPHY
With a career spanning 25 years, Brett Canét-Gibson is a seasoned image maker and communicator in portrait, still and commercial photography, graphic design and the visual arts.
He is the recipient of many international, national, and local portrait and editorial awards, including: People's Choice for the 2015 Head On Photo Awards Festival – the nation's most prestigious showcase for global photography, which toured Sydney, New York and India; finalist of the PCP Iris Award 2015 and 2016; winner of the 2016 DUO Percival Photographic Portrait Prize. He was also Finalist for the 2016 Mandorla Art Award; the London Photo Festival (Fine Art); and the Kuala Lumpur International Photoawards. He won Silver in the 2016 International Fine Art Photography Awards; received the PX3 Pre de la Photographie Paris (Fine Art, People) Gold Award; was a finalist in the William & Winifred Bowness Photography Prize; and awarded 3rd Prize for the IPA International Photography Awards (Fine Art, Still Life) in New York.
Most recently, Canét-Gibson was awarded in the 2017 National Photographic Portrait Prize for two portraits at the National Portrait Gallery in Canberra winning the judges' Highly Commended (2nd Prize Winner) for his image Mastura and voted 2017 People's Choice Winner  for his image Trevor, a feat which has never happened before in the history of the Prize. He was also finalist for the 2017 Head On Photo Festival; finalist for the 2017 Moreton Bay Art Awards; finalist for the 2017 Olive Cotton Award for Photographic Portraiture; and announced 2nd Runner Up Winner for the London Photo Festival (Abstract & Fine