After a long wait we can finally announce that the Fiilex V70 Gen II will be arriving at Team Digital late August. This is the best lamp based print viewing solution on the market. Come in and check them out for yourself.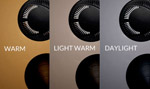 The new generation Fiilex V70 features three responsive touch controls for dimming (100% to 25%), changing color temperature (3000K, 4000K, 5000K, 6500K), and quick power control. Manufactured to maintain Kelvin temperature within ± 100 degrees, the light has a high CRI (>90) at all temperatures and dimming levels. The Fiilex V70 does not emit any harmful UV Light / Radiation, making it ideal to inspect valuable artwork, artifacts, or documents prone to fading.
A truly professional approach to print viewing. While being a stylish, slim line desk lamp.