We had a great weekend at the Prop Fair last weekend. Part of our involvement with the Prop Fair was to support Leanne Curtis during her workshop and seminar.
So we got to see Leanne and the Elinchrom Newborn lighting kit in action. Leanne produced some simply stunning images using just the Elinchrom Newborn kit. Whether it was full length maternity or newborns, all were produced with one light source.
The Elinchrom Newborn kit consists mainly of an RX ONE (100W/s) studio flash with a giant 180cm umbrella and diffuser. It allowed Leanne to shoot with some beautiful soft light. Due to the huge 180cm size and really low power of the light source, we can get very close to the subject. We had so many photographers come up to the stand saying they couldn't achieve the same results with flash of 400W/s or more as it's just too powerful to get the light close enough to the subject.
The kit also includes a special stand that allows you to get the umbrella right to the floor, as well as being more stable than a lot of other stands on the market. The last part of the kit is a metal bracket which allows us to tilt the umbrella at any angle without it slipping. It also takes the pressure of the RX ONE umbrella support. Last kit item is the Elinchrom Skyport wireless trigger so no need for troublesome sync leads.
Here's Leanne in action with the Elinchrom Newborn lighting kit.

Our thanks go the Prop Fair organisers and especially to Leanne Curtis for showing us how to create simply stunning images using the Elinchrom Newborn lighting kit.
If you want to see the Elinchrom Newborn kit in action Team has a kit setup in our Touch studio. Unfortunately we don't have any babies for you to photograph, so you might have to BYO.
Here's a full list of all the equipment in the Elinchrom Newborn kit:
1 x Elinchrom RX ONE 100W/s Flash Head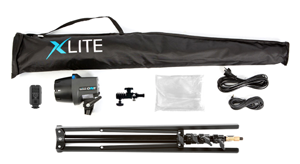 1 x Elinchrom Skyport Plus
1 x Xlite 180cm Jumbo B/W Umbrella
1 x Xlite Translucent Diffuser
1 x Xlite 2.1m Compact Reversible Stand
1 x Tilthead with Spigot
1 x 3m Power Cable
1 x Sync Lead
12 Month Warranty and 24 Months on the Elinchrom components