After spending some quality time (over 6 months) with new Epson P5070 we can say we are impressed. WHY?
Let's start with the major stuff.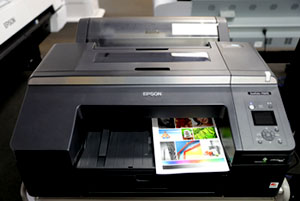 We love the new blacks, which are deep and rich. This is due to a new formula used in the Photo and Matt black to increase the Dmax to the highest on the market. It may not seem like much but it makes images pop. If you're into B&W photography then you'll love these new luscious blacks.
A newly improved dust and static control for reduced printhead nozzle maintenance. Our unit has had very few nozzle blockages. We have been leaving all of our printers on, basically overriding the power save mode and that seems to reduce blockages.
While print permanence hasn't been a real worry since the introduction of pigments inks it's still good to see that Epson is working on making this even better. The new P5070 boasts an increased print permanence due mainly to a change in the yellow ink. It's been independently rated by Wilhelm Imaging Research for up to 200 years for colour and up to 400 years for black and white prints, more than twice our previous generation of ink.
I must admit when we first heard about the Pro 4900 replacement we were a little disappointed that there hadn't been more of an upgrade, but after using the P5070 printer for over 6 months we are very happy with the results.
When you first get the P5070 it comes with 12 inks – how does that work with 11 slots? You have a
 choice. If you want your print to have smooth neutral tones (as photographers we all want that), we want to use the Light Light Black. If you use your P5070 for commercial, graphic, and proofing applications and want to achieve an expanded colour gamut to cover 99% of the Pantone, then we opt for the Violet ink. This is done at the start of priming the inks so don't get it wrong – Epson say you can't undo it. We haven't had a problem – every one of the P5070 printers we've commissioned have been set up with Light Light Black. Be warned!
After you have decided what colour you need to install, you go through the ink installation process, which takes about an hour. It doesn't need any input from an organic input device (you). It will run through the process from woah to go. I haven't measured this, but we estimate that you will use about 25% of the ink to start the printing, with the exception of Light Light Black which gets a double dose because it shares the same nozzle pair as the Photo and Matt black. So be prepared to replace the Light Light Black sooner than the others.
I really wish we didn't waste time and money when changing from Matt black to Photo black and vice-versa. It takes between 3 to 4 minutes to go through the process and upto $3 of ink. I know it's a pain but we've been managing the black change-over for some time now. By minimising the number of times we change from Photo to Matt, we greatly reduce the amount of ink that is purged during the change.
Maintenance wise, I must admit that I wasn't really happy about being asked to do a power clean 6 months in when the nozzle check was perfect. Apparently, it's part of the new maintenance program that the P5070 has built in. On that, there are some new features in the P5070 that should make it a better package than the Pro 4900. New sealing on the printer stops the dreaded dust. The new print head has an ink-repellent surface coating which certainly helps in keeping the P5070 printing happily. Time will tell but after 6 months we are very happy with the results from a maintenance point of view.
We haven't mentioned anything about the driver yet, but it's pretty standard from an interface point of view. To be honest, we don't really use the driver at all – we use Mirage print software, simply the best print software on the planet. It basically does everything that a print driver should, and also allows people of different skill levels to print beautiful colour managed images through its many forms of automation. If you want to see a demo or talk about Mirage give me a call! I love talking about it.
OK now the most important thing: image quality. It is everything we have come to expect from Epson. It has those beautiful blacks and it has a nice big rounded colour gamut – oh what a beautiful gamut map! We also see no issues of bronzing which we haven't for some time now on the Epson printers. We can safely say whether you do fine art Matt prints, Gloss, or Semi-Gloss printing you will love the results. It helps if you have great profiles, which we do. We write our own profiles for all of our Epson printers which you have access to if you purchase a printer from Team Digital.
It might be fitting to drop in a small ad for Team Digital at this point. Why buy your Epson printer from Team Digital? Put simply we offer more support than anyone else in Australia, including a 1-day printing workshop, access to custom profiles, and all our printers go out with Fine Art discovery packs from Ilford and Canson for you to test for yourself. We also offer a Mirage Print software seminar now. All of this is free when you purchase an Epson printer from Team Digital.
Who should buy the P5070? If you aren't doing a lot of printing then the Epson P800 would perhaps be a better option. It's smaller and still does a great job. That being said you get a lot of bang for not much buck with the new P5070 at around $2600 incl. GST – considerably cheaper than the Pro 4900 was. Let's do a few calculations here.
First, what ink comes with each printer?
Epson P800 9 x 64ml (starter cartridges from Epson)
Total 576ml
Epson P5070 11 x 80ml
Total 880ml
Then there's the cost of on-going consumables (at Team Digital's super prices)
P800 80ml cartridge $67.95 – that's 84c per mL
P5070 200ml cartridge $119 – that's 59c per mL
As you can see it wouldn't take too many prints to make some real savings with the P5070 over its little brother the P800.
Let's put this in context: our A4 test image (below) would cost 79c in ink on the P800; on the P5070 it's only 55c – that's over 35% saving on ink.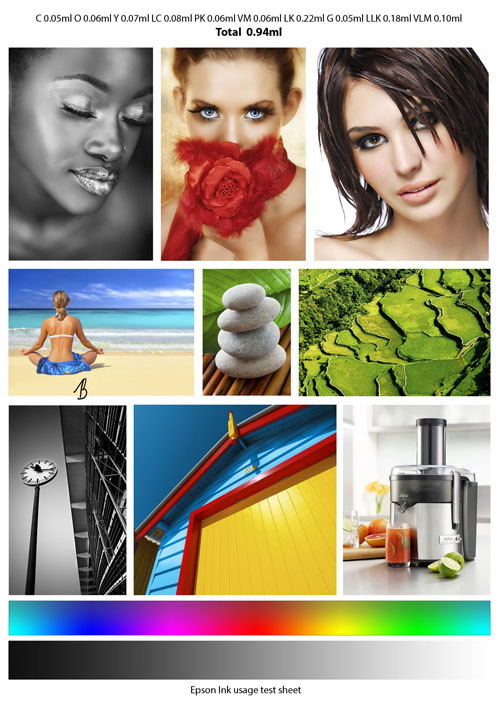 Ok then there's the cost of the printer in the first place. These prices were current on 15/09/2017 and all at Team Digital's great prices.
P800 base printer $1750 plus roller attachment at $250 totalling Approx $2000
P5070 base printer $2600
So as you can see you get a lot of extras for only $600.

If you're a business you'll want to take advantage of Epson Finance. We can get you into a P5070 for only $22 per week over 3 years on a rental basis, with an option to purchase at the end of the 3 years.
It's not all good news… The P5070 is a commercial printer, it's heavy and big. It will take a heavy duty desk to support the P5070. The box it comes in is huge! It won't fit in most cars & some smaller SUV's. The P800 can be lifted by one person and takes up less desk space. It would easily fit into most studios or offices.
If you want to produce canvas prints the P800 and P5070 do that, but canvas by nature needs to be big to have an impact. That's when we would suggest a P6070 24" printer. Looking at it we have a 43cm feed on the P5070 and stretcher bars around 5cm each side so the widest we can achieve is around the 33cm which doesn't lend itself to producing a great canvas.
All that said the New Epson P5070 is a great printer that won't disappoint. Did we mention how much we love those new rich deep blacks? It produces beautiful prints, it's great value for money and it's economical to run. It ticks all the boxes.
If you want to see the Epson P5070 in action give us a call to make a time to get a free print done.