Team took delivery of the new Aputure Tri-8 LED panels late last year, so we thought it was time to let you know how good these panels are. Why Tri-8? Simple – it has 888 LEDs. Clever, hey?
The first thing you notice about the Aputure Tri-8 is its build. This is a robust panel made predominantly of aluminium, unlike most panels that are virtually all plastic. There are some big handles on either side of the panel, which can be handy but they also take up more room when you're packing the units. So there's a bit of good and a bit of bad.
The next thing you notice is the LEDs themselves. There are bucket of loads of them – 888 to be exact. And just like a colour blindness test, if you look hard enough you can see a big "A". Well, you don't have to look that hard – it's pretty obvious. Is it a bit of logo envy or is there a reason? Who knows… I'm still waiting on an answer from Aputure. We love the CRI rating on all the Aputure products and the Tri-8 is no exception with a 95+. What's a CRI rating? In simple terms it's the ability to reproduce colour accurately. Our friends at Aputure tell us that the panel is good for 100,000 hours. That's over 4000 days of use, 24 hours a day.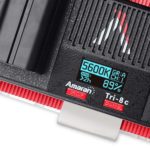 These panels pumps out some light! If you're after power then just get the Daylight version (5500K). The Bicolour is great but it does sacrifice some output to give you a colour range of 2300 – 6800K. Virtually every other panel I've seen has a range of 3200 – 5600K, so I'm not sure where I'd use this extended range, but I'm sure it's there for a reason. The other thing that threw us when we started to use the panel was the fact it has a 25-degree beam angle – not a spot, but certainly a little narrower than most LED panels.
The reason the Aputure Tri-8 is almost all aluminium is because it's actually a heat sink, which works
pretty well. So for video no whirring fan to stuff up our audio. It has three mounting points – two on the side and one on the bottom for mounting on whatever you wish. It also comes with an umbrella tilt bracket. As the name suggests it's great for mounting an umbrella to get softer light.
It comes with a bundle of goodies including a pretty funky grey carry bag. In the funky bag are two big Sony batteries (including charger), which we've been getting around 2 hours from; also adaptors for a V-lock battery if you need longer run time. There's a great little remote that allows us the control all functions on the panel: perfect for when you have it mounted on a boom or a not-so-easily accessible position. I've already mentioned the umbrella tilt bracket, and then there's the nifty little softbox that comes with the kit (EZBox), which can be a little bit of a pain to put together and may not be as robust as the rest of the kit, but nevertheless is still an effective way of softening the light.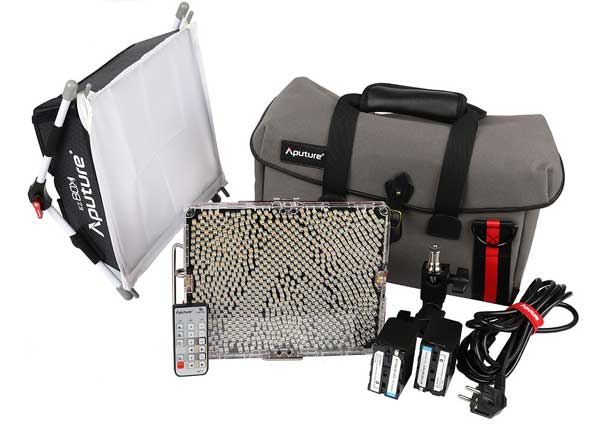 So what do we really think of the Aputure Tri-8? We love it! Why?
Build – more robust than virtually any LED panel we've seen
Power – especially the daylight version
Price – one of the best value LEDs on the market
Fan-less – not sure that's even a word, but you know what I mean
The Kit – complete with virtually everything you could need.
Check out our Aputure Web Shop