A lot of things have happened since our first Edgelight LED review in 2016. Some we would rather not talk about. Some we would like the Edgelite its now Teams largest LED panel seller. It has been so reliable I think we have had only one unit back for any repairs. Its an amazing all rounder for still life, video, food , portrait, newborns, industrial, commercial and many more. This is a true allrounder. Part of the reason for the revisit of this post is to announce some great new pricing on the Edgelight range.
The Edgelight C-700RSV 45cm is now only $779 inc GST
And we have introduced a new kit a Edgelight C-700RSV without batteries and charger for people who want to run existing V Battery systems:  kit is only $649.
Edgelights come in sorts of sizes and shapes come in and talk to Team Digital about you LED Lighting needs.
Team Digital have a new LED Edgelight this is the new frontier of LED lighting. Portable, easy to use, and fast to set up, this LED kit offers a complete lighting solution straight out of the box.
Check out the Edgelight Shop
After running these lights through a number of different tests and scenario, we've got to say we are impressed. Super compact easy to setup and cart around, and must importantly a simply beautiful light. Drop into Team Digital and check it out for yourself.
This light is perfect for newborn, food or still life photography, portrait and commercial photography.
Cost wise we think its pretty good on that front as well at only $999.00 inc gst which includes batteries, charger and case.

Instead of forward-facing LEDs like in a conventional panel, the Edgelight LED are mounted around the outer edge, aimed inward at layers of diffusion material. Instead of a direct beam, the Edgelight LED bounced light approach produces a soft, even glow with no hotspots. It's perfect for filling in shadows, or using as a glamour light. All of this within an elegant form factor – less than 1/2″ at its thinnest point. The internally bounced light is easier on the eyes – your subject can look directly toward the light with no discomfort.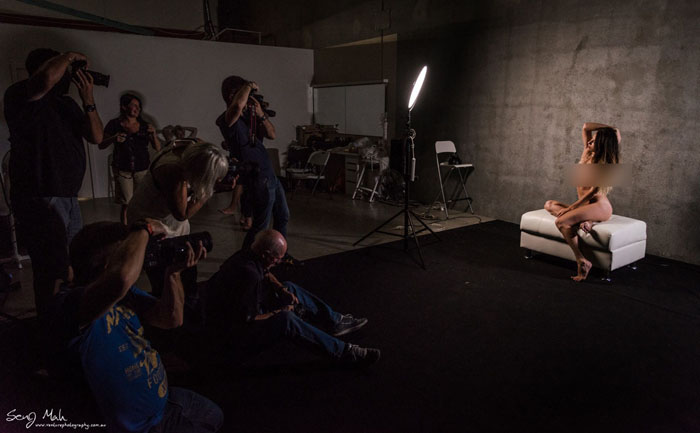 Heres the Edgelight LED in action at a Venture Photography Workshop
The light is fully dimmable, with no change in color temperature, from 10-100%. The light is also dual coloured allowing you to adjust the color temperature from amber tungsten 3200k to white daylight 5600k. A back-lit LCD indicator shows light level, colour temperature and battery life status.
Kit Includes:
C-700RSV Dimmable Edgelight, 3200-5600k Color Temperature
2x NP-F960 Style Battery (7.4v – 6600 mAh – 48.84 Wh) w/ Dual Charging Cradle
110-240v Power Supply Cable
Mounting Yoke for 5/8″ Light Stand Stud
Fitted Custom Padded Carry Case w/Shoulder Strap
Color Balance
Tungsten ~ 3200k (±200)
Daylight ~ 5600k (±300)
Luminous Emittance
3200k – 780lx
5600k – 865lx
EV100 @ 1m
3200k – 7.8 ΔEV
5600k – 8.2 ΔEV
Dimmable Range
10-100% Dimmer Dial
Housing Dimension
45cm diameter (17.75 inch) by 1.3cm (½ inch) thick
Illumination Panel Dimension
41.5cm diameter (16.34 inch)
Mounting Option
Mounting Yoke for 5/8″ Light Stand Stud
Power Supply
110-240v Power Supply Cable
Battery Option
Included 2x NP-F960 Style Battery (7.4v – 6600 mAh – 48.84 Wh)
Optional V-Mount Battery (Sold Separately)
Battery Run Time – NPF (APPROX ONLY)
50% Power ~ 4hrs 45min.
100% Power ~ 2hrs 11min.
Battery Run Time – V-Lock (APPROX ONLY)
50% Power ~ 5hrs 13min.
100% Power ~ 2hrs 59min.
Shipping Weight
5.45kg (12 lbs).