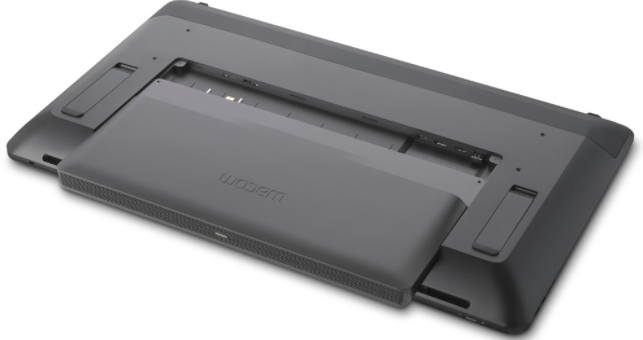 The Wacom Cintiq Pro Engine is a compact PC module that converts the Cintiq Pro into a powerful creative studio. Artists, Designers, and Engineers can transform their Cintiq Pro into a powerful Windows 10 workstation with the power to run the demanding creative applications and workflows, including 3D, animation, and virtual reality.
Virtual Reality Support
In addition to the benefits around creative applications and workflows, the Cintiq Pro Engine supports the increasingly important virtual reality (VR) workflow. Most Wacom products are already capable of supporting VR content creation, but to review and check the VR content, customers frequently need to move the content to another PC that has the graphics power to run VR content.
Powerful Graphics
The Wacom Cintiq Pro Engine is powered by the NVIDIA Quadro P3200. This graphics card is based on the NVIDIA Pascal GPU architecture, which provides the power demanded by today's creative applications with dramatically faster graphics and computing power than on the CPU. "Wacom designs products for the way artists and designers create. They're intuitive, natural and fast and can be used anywhere," says Bob Pette, vice president, Professional Visualization, NVIDIA. "Our new mobile Quadro P3200 packs a ton of graphics power into the new Cintiq and Cintiq Engine Pro, and we're thrilled to have them showcased at our upcoming GPU Technology Conference."

Flexibility Found Nowhere Else
The Wacom Cintiq Pro Engine memory and SSD are exchangeable and upgradable, ensuring system flexibility. Given the plug and play nature of the hardware, it's easy to move between Cintiq 32″ and 24″ displays while retaining the same computing environment with the Cintiq Pro Engine. This flexibility is found nowhere else in the market and leads to a lower total cost of ownership (TCO) than any other solution.
Cintiq Pro Engine i5:
Operating System: Windows 10 Pro
Processor: Intel® Core i5HQ (Quad Core)
Graphics: NVIDIA® Quadro® P3200
Dedicated graphics memory: 6GB GDDR5
RAM: 16GB
Storage: 256GB SSD, PCIe Gen3
Wireless LAN: Wi-Fi IEEE 802.11 ac
Bluetooth: Bluetooth® 4.2
Security: fTPM(TPM2.0)
Input Voltage: 100 to 240 VAC, 50/60 Hz
Connectivity: Internal (communication between PC & Display) 1x USB-C, 1x Power
Connectivity: External (customer interfaces) 1x RJ45 (LAN), 2x USB-C, 1xmHDMI, 1xmDP, 2x DC-
Cintiq Pro Engine Xeon:
Operating System: Windows 10 Pro for Workstation
Processor: Intel® XEON
Graphics: NVIDIA® Quadro® P3200
Dedicated graphics memory: 6GB GDDR5
RAM: 32GB
Storage: 512GB SSD, PCIe Gen3
Wireless LAN: Wi-Fi IEEE 802.11 ac
Bluetooth: Bluetooth®  4.2
Security: fTPM(TPM2.0)
Input Voltage: 100 to 240 VAC, 50/60 Hz
Output Voltage: 19.5V/11.8A (230W)
Connectivity: Internal (communication between PC & Display); 1x USB-C, 1x Power
Connectivity: External (customer interfaces); 1x RJ45 (LAN), 2x USB-C, 1xmHDMI, 1xmDP, 2x DC-in
Stay tuned for pricing and ETA