After working with the new Epson WF-R869 Workforce printer copier system we can confirm that it's a real game changer from a number of different perspectives. The main one is running costs – we believe that the WF-R869 will run rings around any laser product of equivalent size and type.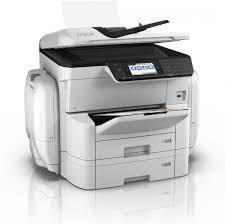 Taking that a little further, we calculated that we can produce an ISO print for $0.06 which includes the cost of renting the Epson WF-R869 printer over 4 years. Let's go through the figures a little later; you will be amazed.
The other thing that stands out is the quality of the prints. Rich colours and dense blacks for crisp text docs. It also allows us to print on all sorts of media from Plain 80gsm through to Photo quality 310gsm media with photo quality results. The pigment-based 4 colour ink set delivers smudge, fade, and water-resistant prints that are highlighter friendly too. It also can produce banners, etc. And for those of you, that really care about colour you can even profile it.
Speed PrecisionCore technology ensures each nozzle on the print head delivers up to 50,000 droplets per second. The result? Fast print speeds that rival those of colour lasers. The WorkForce Pro WF-R869 delivers professional quality, two-sided colour prints at super fast print speeds, making it easy to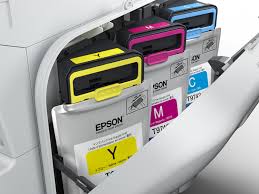 increase productivity, without compromising quality. Boasting drastically improved print speeds of up to 24 ISO ppm (black) and 24 ISO ppm† (colour), any project can be handled with speed and ease.
A super user-friendly interface keeps your business moving with WorkForce Pro RIPS. Forget frequent time-wasting interruptions to change consumables, did we mention the ink packs are rated for 84,000 prints? And when you eventually do need to change them over it's so simple and it takes less than 90 seconds and no toner mess.
However your office is set up Team Digital can get you connected to an Epson WF-R869, via Ethernet or Wireless. You can even print from portable devices such as iPhones and iPad via the AirPrint App, and it supports Android devices as well via Epson Connect App.
Now let's talk a little more about running costs. We believe we can save your business a fortune in running costs. Team Digital and Epson Finance have put together a rental package.
The package consists of:
Epson WF 869R Workforce printer
4 Year Warranty
2 sets of inks (168,000 pages worth)
2 x Maintenance Tanks.
Delivery and installation
Which you can rent over 4 years for $48 per week excluding GST which calculates to $0.06 per page Black and Colour. Now that has to be some massive savings over your existing copier setup.
Of course, if you use more than 168K pages in that four years then you'll need to purchase more, ink which only costs $0.03 per page.
All calculations regarding ink usage have been set using the ISO/IEC 24711. If you want to know more about ISO 24711 click here for a rundown.
Ring one of our Workforce printer specialist for a demo or more information.