This where I confess I need to get out more. We are super excited about a new product Ilford has just released: Creative Emulsion. So what's it all about? Imagine you saw this beautiful paper you'd love to print on with your favourite inkjet printer, but you know uncoated papers can't give you the colour saturation or sharpness because the ink just bleeds everywhere.
With the Creative Emulsion that is a thing of the past. We now can coat any paper we want with Creative Emulsion. As if that isn't enough, we can also control the amount of sharpness or colour density depending on how we mix the A and B solutions. The world is your oyster! Look out art shops, we're going paper shopping! Can't wait to start testing this bad boy & create my own papers – Washi, Rice, Cotton… hell, I might even try a wood veneer, yeah!
NOTE: We have a number of samples produced by our good friend Chris Saunders in the showroom so you can see what the Creative Emulsion can do. We also a super intro price normally $229 now $199 up to 22/12/2018. Could be a great project to have some fun with over holiday break
ILFORD GALERIE Creative Emulsion is a water-based inkjet coating solution that has been designed to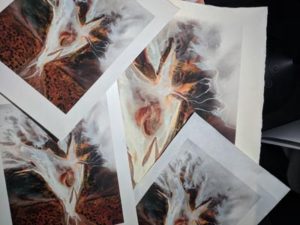 allow printers to create an inkjet print from any commercially-available, traditional art paper. GALERIE Creative Emulsion, which is applied manually, forms an inkjet receiving layer, that will produce images with a wide colour gamut, excellent sharpness and colour density without compromising the tint or texture of the original paper.
ILFORD GALERIE Creative Emulsion is available with two types: Blend A and Blend B. The two emulsions have different coating characteristics.
Blend A solution is able to inhibit the ink bleeding on the paper to increase colour density and sharpness of the image without affecting the texture and tint of paper.
Blend B solution will give greater sharpness and density to the print.
It is recommended to experiment with the two blends to create the desired look and finish.
ILFORD GALERIE Creative Emulsion can be applied to many different kinds of uncoated papers, such as Washi papers, Rice Papers, Bamboo Papers, Cotton Papers and so on.
Creative Emulsion is compatible with both dye and pigment inks.
It is recommended to use the Creative Emulsion Coating bar to coat the ILFORD GALERIE Creative Emulsion.
Ilford Shop