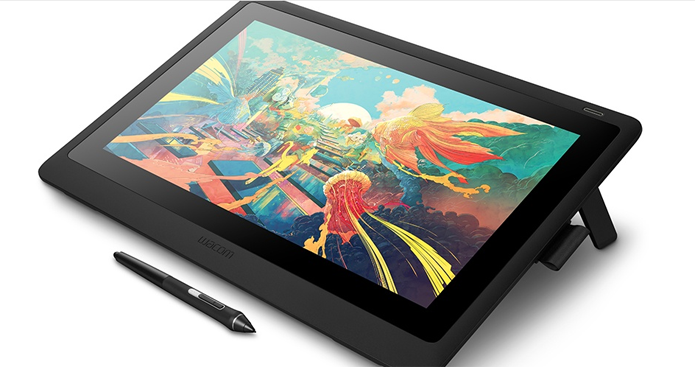 Wacom last night announced a New Wacom Cintiq 16 the thing we noticed straight away was the price $899 Aus. That's incredible for an Tablet Screen, Ive got to say we are pretty excited.
It has been down speced to get it to this price but there isn't to many sacrifices.
The main one being a 2K screen as opposed to Cintiq Pro 16 4K, that being said it still has a lot of the features that the Cintiq Pro 16 has. Heres a little comparison chart we put together.
| | | |
| --- | --- | --- |
| | Cintiq 16 | Cintiq Pro 16 |
| Screen Size | 39.6cm/15.6″ | 39.6cm/15.6″ |
| Screen Res | 2K 1920 x 1080 | 4K 3840 x 2160 |
| Colour Gamut | 72% NTSC | 90% AdobeRGB |
| Pressure Sensitivity | 8192 | 8192 |
| Connectivity | HDMI, USB-A | Via Wacom Link |
| | | USB-C, MiniDisplay Port |
| Screen Coating | Film Coated | Etched Glass |
| Weight | 1.9Kg | 1.5kg |
| | Without stand | Without stand |
| Size | 422x285x24.5mm | 410x265x17.5mm |
| Power Consumption | On Mode Max 27W | On Mode Max 33w |
The Cintiq 16 comes complete with what has to be the best drawing pen on the market in the Pro Pen 2, we love it and so do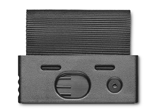 our clients. With 8192 pressure sensitivity plus tilt function, it does everything you could want or need in a pen.
Ok so then there is the all-important screen, a couple things you need to consider.
Colour Gamut: the Cintiq 16 only covers 72% NTSC which wouldn't be enough for photographers to do serious colour editing on. If you couple it with a Eizo monitor then problems solved.
Resolution: as discussed the Cintiq is only 1920×1080 2K it wasn't that long ago that this was the standard. Yes thing will look a little less sharp than a 4K but it doesn't have the 4K price tag either. I think I can live with a little less res for $900.
Screen coating: the Cintiq Pro 16 has a glass etched coating which is great for feel and minimizing the glare from overhead lights depending on your work environment. The Cintiq 16 has a film coating which has a great feel from what we have heard. Glare wise we need to get our test unit to check that out.
Stand wise it's like the Cintiq Pro range with its little back legs which get us to a 19-degree angle. You could increase by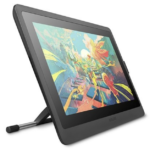 using some books etc. Or you could get the dedicated stand for only $119. The VESA mounted Adjustable Stand for the Wacom Cintiq 16 lets you choose from a variety of working angles (19-68°) to suit your own way of working. VESA adaptor plate included. (not compatible with Wacom Cintiq Pro models).
Connectivity the Cintiq 16 comes with the same connection as the Cintiq 13HD 3n1 cable, super simple to connect HDMI for the display and USB for the Pen communication and power all in a 3n 1 cable. It's 1.8m long so it shouldn't cause any issues lengthwise connecting to your computer.
Functionality pretty simple you have your programmable pen and radial menu which should do most tasks if you spend the time to program it yourself. There is an optional Express Key Remote for only $149. That can do so much more but you still need to program the little gadget. You would have to have that on your desk as the there is more real room on the thin bezel to place it.
Software wise it uses the same driver that all the Cintiq's use it has great levels programmability and functionality. It's important to note at this point you will need a min 10.12 Apple OS and Win 7.
What comes in the box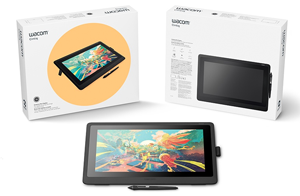 Wacom Cintiq 16 pen display
Wacom Pro Pen 2
Detachable pen holder with 3 replacement nibs (standard) and nib removal tool
3-in-1 cable (1.8m)
AC adaptor (12V, 3A, 36W)
Power cable (1.8m)
Quick Start Guide
Warranty card (Japan, Asia Pacific, China only)
Regulation sheet
Ok as we said at the start of this post we are excited, the Cintiq 16 gives people who may not have been able to afford a screen tablet a real opportunity. We believe that this type of technology will make your business more productive or if you just have it for fun, more creative. If you are a photographer, illustrator, designer, animator or a digital artist then this could be just the tool you need (want).
We will have our demo soon in our Wacom Touch Centre, come in and have a play.