We have been waiting for the new flag ship Wacom Cintiq Pro 32 to arrive since it was announced January 2018. It adds to Wacom already success Cintiq Pro Range 13"16"and 24" units.
Huge Panel
The big claim to fame of the Cintiq Pro 32 is its huge 31.5" IPS panel. The biggest in the Wacom range by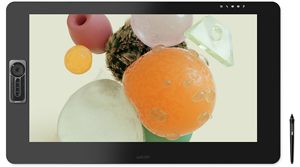 far. With resolution of 3840 x 2160, 98% AdobeRGB, and support for 1.07 billion colours. It ticks all the boxes for a professional that need colour accuracy. How does it calibrate we will have wait to get our unit through to test on that front. Stay tuned for a report on that. When we do a comparison between the amazing Cintiq Pro 24 and 32 we did notice that for all that extra screen real estate. The physical size is only some 9cm on the width and 4 cm on height. It is it due to a smaller bezel on the 32" so it won't take up all your desk real estate.
In the Box
It comes with the very versatile Wacom Express Key remote and It doesn't come with a stand. Only the little back legs, which give you about 20-degree angle on the screen. We have had customers that have increased that angle by using a few books to put the legs on. If you want more options as far height and angle you can purchase an Ergo Flex stand. Which is extremely versatile allowing you to get in the perfect position for your work style or the environment.
Connectivity
Connectivity can be a challenge with some of the Wacom tablets depending on how old the computer is that you are plugging it into. The Cintiq Pro 32 comes with USB-C, HDMI, and DisplayPort. If you are worried about compatibility with your computer just send Team Digital the details and maybe a picture of your ports and we can work out what adaptor you need etc.
Functionality
When it comes to the functionality of the 32, it comes with Pro Pen 2 that allows us to have 8192 levels of sensitivity. As with all the other Cintiq Pro there is next to no parallax error. Plus there is nowhere as much glare from the screen due to the etched glass screen. Plus the Wacom Express Remote which can be placed on either side of the tablet which allows Wacom to make the 32 with a smaller bezel than previous Cintiq. Please please don't discount the value of this handy little gadget. If you take the time to program it will reward you time and time again either through increased productivity or creativity it is a very powerful tool. When you purchase a Wacom from Team Digital we invite you to attend our "Unleash the Power of Wacom" seminar where we show you how to program your Wacom really worth the time.
New Features
I'm guessing to new features on the Cintiq Pro 32 is more to make the unit more functional when you add the new Wacom Pro Engine computer. Whatever the reason is the addition of 3.5mm Microphone jack and SD slot can only be a good thing.
Touch Only
The Cintiq Pro 32 only comes in one version Touch whether you want it or not. It is a useful feature although I always find myself turning off the touch function when doing editing on our current Cintiq Pro 24. That being said I do use it all time when I'm not editing, so its a feature well worth having.
Wacom Pro Engine
You can also turn the Cintiq Pro 32 into a free-standing computer, through the addition of Wacom Cintiq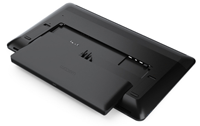 Pro Engine. Be warned they are pretty expensive, but if you want to make your workspace a little tidier then it does get rid of your existing computer and extra cables. We believe this will be an Indent line from Wacom Australia so there would be a lead time to get one through.
Wacom Flex Arm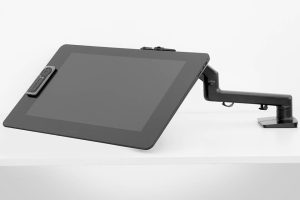 Stop the press: just arrived the new Wacom Flex Arm especially designed for the Cintiq Pro 24-32. Which now makes the Cintiq Pro 24/32 even more versatile than ever. It's ideal for achieving that perfect height and angle. Super simple to setup and to use.