Before we get into this review on the Ilford Creative Emulsion we'd like to thank Chris Saunders for all his experimentation with the product. Without his input we wouldn't have so much information to share with you. Many thanks Chris for all your work.
What is Ilford Creative Emulsion?
A water-based inkjet coating solution that has been designed to allow printers to create an inkjet paper from any commercially-available, traditional art paper. Basically we take any non-inkjet paper and turn it into an inkjet coated media. It will allow us to produce images with a wide colour gamut, excellent sharpness, and colour density without compromising the tint or texture of the original paper.
There are two Blend solutions.
Blend solution A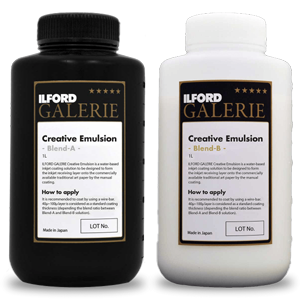 is designed to inhibit the ink bleeding on the paper to increase colour density and sharpness of the image without affecting the texture and tint of paper.
This the clearer of the solutions so it won't affect the paper colour or texture
Blend solution B gives greater sharpness and density to the print. This is more opaque so the more you use of this solution the more it will affect the Paper colour (tint) and Texture.
What kind of paper can I use? 
Virtually any uncoated matte paper is suitable. It comes down to what your printer can support more than anything else. It will also support both Pigment and Dye inks.
How much do you use?
approx. 8-10ml for one A4
approx. 16-20ml for one A3
approx. 32-40ml for one A2
How much does it cost?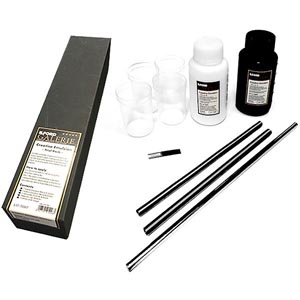 approx. 46c per ml when using the Trial Pack
approx. 10c per ml when using the 2 x 1L Blend Solutions
This is the coating procedure we found works best:
Applying the emulsion with a top grade paint brush works the best. The coating rod has too many limitations.
Mix the solutions as directed. We found a 50% A + 50% B solution seems to give us the best all-around results.
Make sure to shake the solution bottles well before mixing as they will separate after resting.
Place approx. 10ml on an A4 sheet, spreading it as evenly as you can. Don't let the solution pool too much – you'll need to work quite quickly to achieve an even coating.
Once the coating has been applied we recommend that you hang the coated media so it can dry evenly and flatten out. We would suggest you allow at least 48 hours, possibly upto one week for the sheet to dry and flatten.
When you're ready to print you can iron the non-coated side to flatten the media out more.
Here's Chris using his coating method.
Using the Ilford Creative Emulsion from Team Digital on Vimeo.
Now we are ready to print. A couple of things you need to consider.
Loading the sheets and Colour management
Firstly Loading
We've found that regardless of the media thickness it still won't be perfectly flat. We get around this by Front-loading on the Epson printers, which will do two things: give a straight through feed and lift the platen gap.
If you still get the printhead striking the sheet you can lift the platen further through the Epson printer menu.
Colour management
While it's not an exact science to get coated sheets perfect, we do have some recommendations as a starting point.
We've found Velvet Fine Art to be the best media selection and the same with the colour profile. You could make a profile if you wanted to but we're not too sure how useful that would be due to the nature of the process. We are referring to the possible inconsistency of the coating.
We would also recommend that you print a few step wedges on different media settings to see if you can get better ink coverage. What we want is a good dense black but also good separation through the dark to mid greys.
In Conclusion
We have to say this Ilford Creative Emulsion is a great way to create amazing inkjet printable media. It can also be applied to pre-coated papers to get even better results from a colour saturation and sharpness point of view. We did this with Washi and Bizan papers and the differences were quite substantial.
It's a great way to create one-off media and once you have the process sorted it doesn't take much time to coat at all
Thanks again Chris for all your help.
If you want to try it for yourself head over to the Ilford Shop.