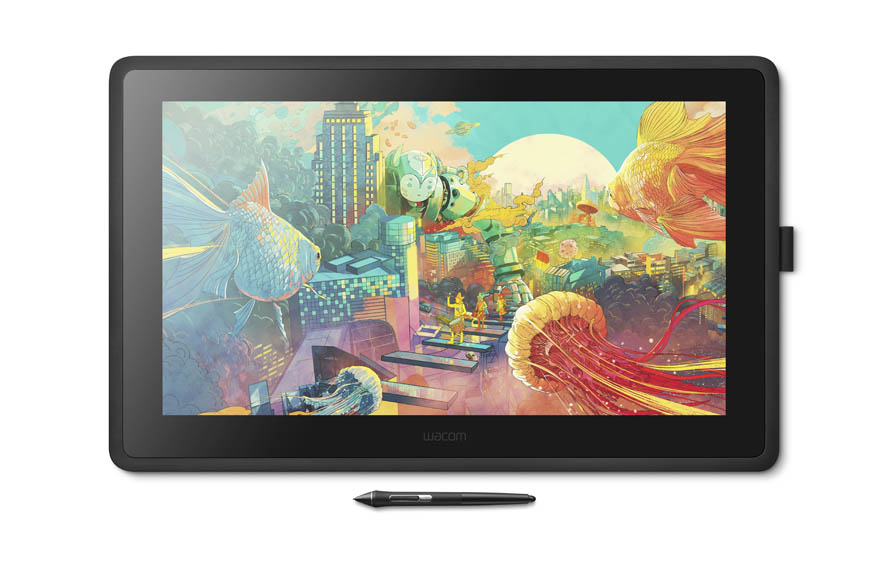 Wacom recently released the Cintiq 16 and at only $899 it's been a real winner. Today they announced their new Cintiq 22 and at only $1599 it's sure to be another success for Wacom.
The Wacom Cintiq 22 creative pen display is perfectly equipped to help you begin your journey as an illustrator or retoucher. Vibrant colour, HD clarity and ergonomic design together with the super-responsive Pro Pen 2, offer a truly natural experience and help take your creative ideas to the next level.
Built for you to make the difference, Wacom Pro Pen 2 and Cintiq's high-definition displays (15.6" and 21.5") work together to make your creative session comfortable and productive.
The Wacom Cintiq display has an anti-glare film which prevents distracting reflections. But more importantly, it combines with Pro Pen 2 to make drawing on Wacom Cintiq feel as familiar as drawing on paper. With reduced parallax, your cursor appears exactly where you would expect. That level of accuracy means that drawing, sketching and painting feel natural, immediately.
Built of durable, scratch-resistant materials, Wacom Cintiq is a creative tool you can rely on for your first project and those to come.
In addition, the Wacom Cintiq 22 comes with a stand that easily adjusts to your preferred working position, so you can work in complete comfort.
Wacom Cintiq's 1920 x 1080 full HD display provides great clarity, so you can see every detail on screen.
What's included?
Wacom Cintiq 22 Pen display
Wacom Pro Pen 2
Wacom Cintiq 22 Adjustable Stand
Detachable Pen holder with 3 replacement nibs (standard) and nib removal tool
HDMI to HDMI cable (2M), USB2.0 (2M), Power cable (1.8M)
AC adaptor (60W)
Quick start guide
System Requirements
Windows® 7 or later (latest service pack/build)
Mac OS X 10.12 or later (latest update)
HDMI port and standard USB-A port
Check out the Wacom Shop