If you're into or want to get into the world of Podcasting then Team Digital and RODE have the solution: RODE Podcast Production Studio kits, which are specially put together with everything you could need to produce professional Podcasts.
At the heart of the RODE Podcast Production Studio kit is the RODE Podcaster Pro.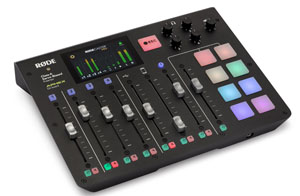 Easy-to-use podcast production studio
8 faders to control audio levels
4 high-quality XLR mic inputs
Instant jingle playback via programmable pads (with companion app)
Echo Free Phone connectivity via either TRRS or Bluetooth™ with automatic mix-minus
Aphex Big Bottom™ and Aural Exciter™ processing onboard
Record direct to microSD™ card or computer via USB
2 years* Warranty (1 year standard plus 1 more with online registration)
The RØDECaster Pro™ is designed to simplify podcast production whilst delivering superb audio quality. It supports up to four presenters, as well as offering easy connection to phone, USB and Bluetooth™ sources. Eight programmable pads offer instant playback of sound effects and jingles. Podcasts can be recorded directly to microSD™ card, or to a computer via USB. Ease of use is assured, with intuitive controls and large full-colour touchscreen.
We then couple the RODECaster Pro with some RODE Podmics and you are ready to go. You know the audio is going to be first-class because it's from RODE.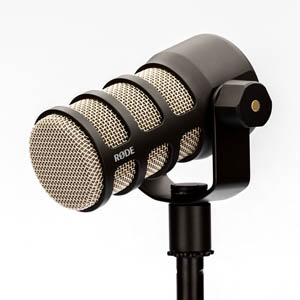 The PodMic is a broadcast-quality dynamic microphone optimised for podcasting. It has a rich, balanced sound, with an internal pop filter to minimise plosives and internal shock mounting to reduce vibration.
The PodMic is optimised for use with the RØDECaster™ Pro Podcast Production Studio, but will also offer exceptional results with any high-quality microphone interface.
Broadcast-quality dynamic capsule
Optimised for speech applications
Internal pop filter to minimise plosives
Robust, all-metal construction
Designed for use with RØDECaster™ Pro Podcast Production Studio
Add some XLR Cables  Mic stands, Headphones, and 32Gb MicroSD to get you up and running. Team Digital has put together two kits – a Quad Kit and Twin Kit.

RODE Podcast Production Studio kit QUAD
1 x RODECaster Pro
4 x RODE PodMic
4 x RODE DS1 Mic Stands
4 x 1.5m XLR Cables
4 x Brehringer HPS3000 Studio Head Phones
1 x Sandisk Extreme 32gb MicroSD 100Mb/s
Total Kit $1799 inc gst
RODE Podcast Production Studio kit TWIN
1 x RODECaster Pro
2 x RODE PodMic
2 x RODE DS1 Mic Stands
2 x 1.5m XLR Cables
2 x Brehringer HPS3000 Studio Head Phones
1 x Sandisk Extreme 32gb MicroSD 100Mb/s
Total Kit $1399 inc gst