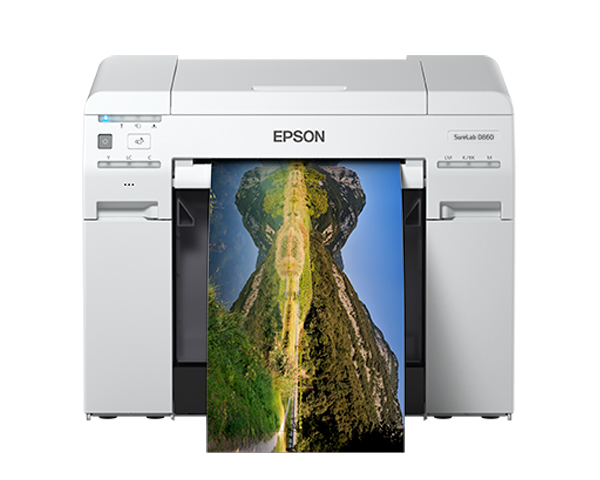 Epson have just released their new Epson Surelab D860 to replace the very successful Surelab D700. Now we've done a few installs of the new Surelab D860 we can say we're impressed.
Let look at the differences between the original Surelab D700 to the SureLab D860.

SureLab D700 Vs SureLab D860

Increased Duty Cycle from 100K (D700) to 200K (D860)
New nifty rewind button, which make changing media so much easier.
Colour gamut has increased slightly. |
New Spindle design
Media size changes now 3.5" and A4 Rolls in all surfaces
And last but not least a decent print tray which will also fit the D700.
Footprint Size
With a compact footprint we can run multiple units in one location. Doing this with varying media sizes and types may be more efficient than running the larger Surelab D3000 and certainly cheaper. If you want to run multiple units off one computer you'll need either the Epson Order Control Software or Mirage Print Software. More about both of these later.

One thing to be aware of: Surelab printers do produce a fairly noisy drone sound – you might want to set the printers up somewhere it won't be bothersome. It's not terrible but it is constant.  
Print Quality
The print quality is great and there are lots of options for tweaking your printer if need be. It has a large colour gamut for a 6-colour system. We believe it's the best-in-class for quality output when set up correctly, and Team Digital's here to help our clients with this.
Speed and Media
It's pretty fast, running out 430 6×4″ or 140 8×10″ prints in an hour. The first print takes a little time to come through but once you send through multiple print jobs you're fine. We can also do non-standard sizes on the D860. It allows you to print up to 39″ in length. We haven't had to do that yet but it could be handy for some jobs. 65m rolls are available in widths ranging from 3.5″ to A4, in Lustre, Gloss, and Matt surfaces. The new Rewind button makes changing media super easy and quick.
Software Options
There are a number of options on this front. We've installed printers using both Epson Order Control and Mirage software. Let's explore these further.
Order Control software comes in two versions: LE and Full. The only difference between the two versions is you can run one printer only with Order Control LE, whereas you can run multiple printers in the full version. The Order Control Software lets you manage multiple printers and handle bulk printing, along with scheduling, image adjustment and colour management. If you're familiar with Minilab software then Order Control will make total sense to you. It's pretty easy to set up once you know how – yet another reason to buy from Team Digital.
Please note: Order Control software is only available for Windows OS.
The other option is Mirage software, which we must confess is our favourite printing software due to the simplified process. With Mirage's user-friendly interface if you know the size and type of media in the printer you can print beautiful colour managed prints every time. We can even set up droplets so you just need to drag a folder of images onto the droplet and you're good to go.

Images need to be finished (ie sized, cropped, colour corrected, and sharpened) before printing with Mirage. If this fits into your workflow then you might wish to consider Mirage software.
We can demonstrate both these options to help you get a better idea of what they're capable of.
Maintenance
After selling and supporting the D700 and now the D860, maintenance on the SureLab D860 is even easier with the new SL-D800 Series Maintenance Tool software handling everything. This is where we do all the nozzle checks and cleans, which is (almost) all the maintenance needed. We do need to clean the paper path approximately once per month, which is easy to do. You may also need to look at the Platen pads if you are doing a lot of borderless printing. All in all it's pretty easy to maintain the unit. We can show you how it's done.
Portability
The unit is small enough and robust enough to be moved from one location to another. We have clients that regularly set up at different locations for on-demand printing. If you're careful it's not an issue to move them around.
Conclusion
We hope this review assists with deciding if the Surelab is what you need for your business. On that front, we have some great rental packages available through Epson Finance. After selling and supporting the Surelab series for over 4 years we're sure we can with getting you up and running your new Surelab, as well as ongoing maintenance. If you want an information package or to book a demo call (08) 9328 3377.
FEATURES AT A GLANCE
High Productivity – up to 360 6″x4″ prints per hour in production mode
High Precision – Epson Micro Piezo TFP for predictable and consistent output in resolutions up to 1440x720dpi with VSDT for with superior half tones, precise colour & density control
High Quality – Epson UltraChrome D6r-S ink with a media output heater for prints that exit dry with high depth, vibrant colour, and a durable finish
High Flexibility – choice of Gloss, Lustre and Matte media in widths from 3.5″ to A4, print with and without borders in lengths from 50mm to 1m, new Event Mode enables rapid startup & production1
Easy to Operate – simple to use with minimal maintenance, front-loaded consumables with no special handling processes, integrated auto-cutter, see-through front mounted paper cut waste bin, 65m roll based media with easy loading and unloading, print direct from common photo applications or use optional Epson Order Controller software for easy production with job costing, image editing, job scheduling and load balancing2
Easy to Integrate – direct PC connection via high speed USB2.0, ultra-compact and light-weight, can be operated on a desk or installed in a Kiosk cabinet2, very low power consumption, supplied with an advanced Windows & Macintosh driver with integrated colour control and maintenance support
High Durability – 200,000 print duty cycle backed with a comprehensive service cover that can be extended up to 5 years4