Stardom DAS Dual Drives come in a number of different configurations. Slightly different housing and different connectivity.
They all have the same options as far as what RAID is available. They are all hot-swappable.  Let's have a closer look at the range.
ST2-B31B : Dual Bay, USB 3.1, USB C, external power supply.Up to 10Gb Transmission, Limited Hard drive compatibility

ST2-TB3 : Dual Bay, Thunderbolt 3, external power supply. Up to 40Gb Transmission, Limited Hard drive compatibility
DR2-TB2: Dual Bay, Thunderbolt 2, internal power supply.Up to 20Gb Transmission, 14Tb Hard Drive support
DR2-TB3: Dual Bay, Thunderbolt 3, internal power supply.Up to 40Gb Transmission, 14Tb Hard Drive support
All have a robust Aluminum outer shell, Fan cooling, support both of 3.5″ HDD and 2.5″ HDD & SSD products.
All of these units have the following raid options:

Safe Mode RAID 1: To maximise data protection. Data is written identically to both drives (Mirror) simultaneously. In the event of a drive failure, the second drive will take over. RAID 1 provides the highest level of protection in hard drive storage.  
Speed Mode RAID 0: Storage mode, which enables a user to attain up to 724MB/s read speed with DR2-TB2's Thunderbolt transmission interface. Whether it is used for searching and editing photo galleries, or video editing and synthesis, it promises to deliver smooth and easy operation.
JBOD Mode: In this mode you can install two drives that have different volumes and use them independently. There is no RAID configuration and without special safety or speed differences.
Depending on your requirements we recommend RAID 1 for most applications. When in this mode we're able to have an offsite option. By being able to remove the secondary drive and replace it with another drive and the data from the primary drive then writes automatically to the drive in the Secondary slot. We recommend this setup because your data is then on 3 different drives, so if one drive fails you're still covered.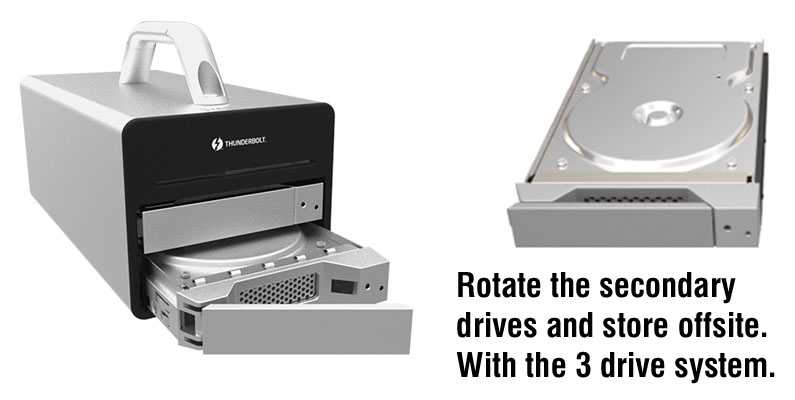 We also recommend the three drive option in RAID 1 because it allows us to have a back up offsite. So even if the worst happens ie the unit gets stolen, fire damaged, or has an electrical failure, your data is still safe.
Advanced power management.
Stardom uses energy-efficient hardware components that work hand in hand with the computer system to conserve power. It spins down hard drives and activates sleep mode after a period of inactivity.
Your Storage Survey
If you're not sure what storage solution is best for your needs we have a small survey you can fill in and we'll organise a free consult. Click here: Storage Survey 2019