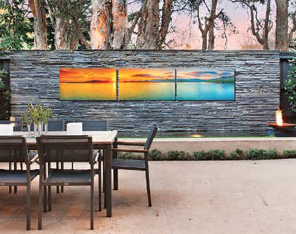 Some of you may not be aware the Team Digital is the Western Australian distributor for Chromaluxe products. If you want to get any information on the Chromaluxe range contact our dye sublimation specialist Ben Walton. Here a new product that Chromaluxe has recently brought out, the Chromalux EXT.
ChromaLuxe EXT gives users the ability to take prints outdoors, or into direct sunlight with the image quality and durability they've come to expect from other ChromaLuxe products. These UV resistant panels come in a variety of common sizes to serve the signage, display and outdoor photography markets.
Features:
Image quality, depth and colour
Consistent high gloss finish
Weathers well
Easy to clean
Graffiti resistant
Chemical resistant
Scratch resistant
Impact resistant
Wind resistant
No need to laminate
Thoroughly tested
ChromaLuxe EXT Clear Gloss Metal Prints, the newest addition to the ChromaLuxe Extended Lifeline, offer another attractive option for the signage, display, and outdoor photography markets. The clear finish of the prints allows the natural silver of the aluminium to shine through. The detail and vibrant colour remain, but with a unique effect that is aesthetically pleasing. These UV resistant panels come in a variety of common sizes along with the quality and durability users expect from ChromaLuxe.
Description: UV resistant metal prints rated for outdoor use.
Uses/Applications: Outdoor art, photography, signage and display.
Thickness: 0.045" aluminium
Finish: Gloss White / Gloss Silver
The life of this product is directly linked to the ink used during the printing process. Additional inks in test currently. List of ratings will be updated accordingly.
UV Resistant with an Expected Outdoor Life of 2 years (photography based)  or 3 years (signage based).