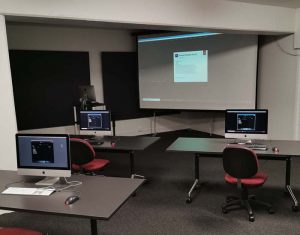 With the Federal government announcement of 29 April revising COVID-19 workplace practices, Team Digital have decided to re-open our Training Centre – albeit with several limitations…
We and our providers support the National COVID-19 safe workplace principles.
Accordingly, group training and one-on-one sessions are available from the week commencing 11 May. Seminars, workshops and round-tables will not be offered until further notice.
We know there may be concerns due to the ongoing COVID-19 situation, so we've implemented a few changes:
• Classes are now capped at a maximum of four (4) participants
• Each participant has their own desk, 1.8 metres wide; and are distanced at least this far from other attendees
• A hand rub station is in the room.
Our Training Centre is housed in the Bunker Gallery (70sqm floor area). Each student has their own desk and computer for the duration of the course. All equipment is cleaned and sanitised at least daily.
Combined, these help to ensure a safe and supportive environment, whilst maintaining the personalised attention we've always provided.