This is a mini-review of the new Epson SC-P906 and P706 based upon what we've learnt from the new features on the Large Format SC-P9560 and information obtained from our friends at Epson Australia. A full review will be available in August after we've had some time with the new printer.
Let's start by saying the Epson P906 has big boots to fill considering the success of its predecessor the P800, which was and still is an amazing printer. The P-800 produced amazing images and was one of the most reliable printers we've ever supported and sold. It was also really economical to run; we'll do a comparison on that later.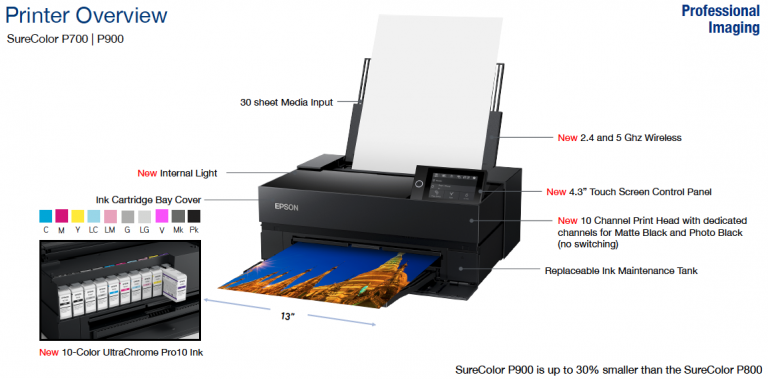 So what's so good about the Epson P906 and P706?
UltraChrome PRO10 10-Color Ink Technology
Up to 6% wider colour gamut than the SureColor P600 | P800
More Colours on the page
No Switching Black inks – Dedicated channels for Pk/Mk
Save time and money when using both photo and matte media
Top Load for all sheet media
Except for Posterboard which is loaded through the front of the printer.
No more loading Fine Art media one sheet at a time through the front feed!
New dramatically smaller printer design
The P906 is the smallest 17" printer in it's class.
Epson Media Installer Software Simplifies Media Management
Single, customised, media list on printer driver and control panel. Unified Settings: Print Driver, Printer Control Panel, and ICC Profiles.
Epson Print Layout Software
Simple WYSIWYG (what you see is what you get) Print Process
Puts the application, operating system, and printer driver settings in a top to bottom flow within a single window
Bypasses complicated operating system dialogue boxes and options
Choose printer settings, layout, and colour settings from top to bottom, then print
Works as an Adobe® Photoshop® plug-in or as a standalone application
New user-friendly interface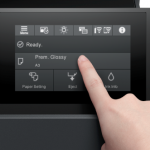 Including a new 4.3-inch LCD Touch screen.
Carbon Black Overcoat Technology
DMAX increase of up to 11% vs the SureColor P800
Special driver mode to improve black density, contrast, and reduced bronzing & gloss differential
Optimised for Semigloss, Pearl, Lustre, Glossy, Metallic Glossy photographic media
Low running costs
Large 25 mL (SC-P700)/ High Capacity 50 mL (SC-P900) ink cartridges
If we do a comparison with the current P800 the running costs are very similar. P906 50ml cartridge $51.60 ($1.03c per ml) vs P800 80ml cartridge $81.70 ($1.03 per ml).
On the P706 it has the addition of a replaceable maintenance tank which the previous P600 didn't have. This means you can just replace the tank instead of taking the whole printer to a tech to get the pads replaced. Saves time and money.
We can't wait to get our demo unit so we can start to do profiles and work on setting up the P906 and P706 so you can get the most out of these printers as simply & easily as possible.
Remember no one in Australia supportsEpson printers like Team Digital with Profiles, Print workshops and sample media.