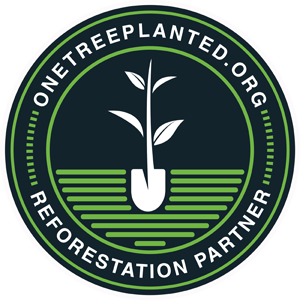 We're so happy to partner with the One Tree Planted organisation. This project has been a long time in the making, but now we can announce every time you purchase Canson, Ilford, or Epson fine-art media through Team Digital we will plant a tree (or trees) for you. We've often thought about how many trees must be cut down to supply us, and in turn you, our amazing printing papers so we wanted to do something about that. Hence the One Tree Planted partnership! One Tree Planted is an amazing organisation with programs being run worldwide. They're responsible for planting over 4 million trees in 2019 alone!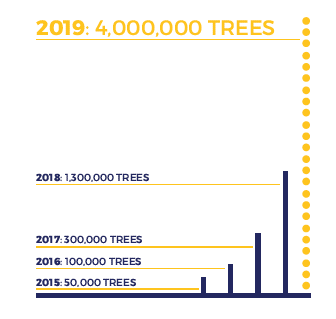 You don't have to do a thing, and it doesn't cost you anything! Just leave it to Team Digital and One Tree Planted. You'll feel even better next time you pick a pack or roll of Canson, Ilford and Epson Media. We would really like thank our print partners Canson, Ilford, and Epson for supporting this project.

You can request a certificate that will show exactly how many trees you or your business have been responsible for planting. We encourage you to use these certificates to show your clients that you're doing something really tangible for the environment, so feel free to use them where ever you see fit Social media, etc. Team Digital will also have a running tally on our website so you can see exactly how many trees have been planted. We're really looking forward to making a difference.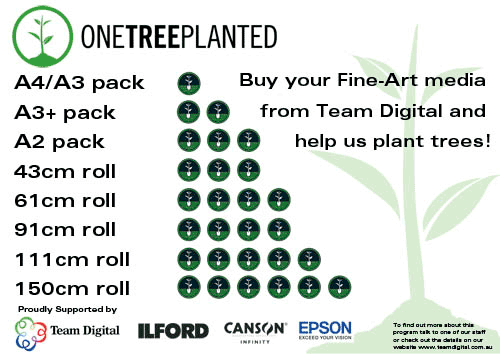 The project we've chosen to support currently is the reforestation of NSW/VIC after the fires of 2019/2020. With over 123 million hectares of native forests, Australia has the seventh-largest forest area in the world, making up three per cent of the Earth's forests. These forests are unique and varied – ranging from ancient Gondwana rainforest and tropical mangroves to extensive bushlands made up of native Acacia, Melaleuca and Eucalyptus trees. This program will help plant millions of trees across Australia to recover forests affected by the 2019-20 Black Summer Bushfires and restore native habitat vital for wildlife.
Our partners choose native trees that will bring the greatest overall benefit to the ecosystem and region. This includes various types of native trees and companion plants. Depending on the specific needs of each section of habitat being restored, native trees may include Acacia, Banksia, Eucalyptus, Melaleuca, and many other native species.
We hope you will see a real value in being part of this project and we look forward with your help making a real difference.
We are going to have a handy little tally running on the front page of the Team Digital web page  so you can keep up with the overall tally
Here's a link to the One Tree Planted website