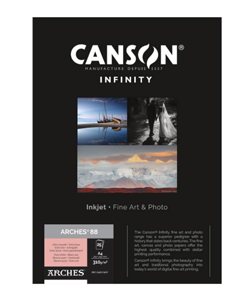 There's nothing better than being able to test and print with new media, and we're about to do exactly that with the new Canson Infinity Arches 88.
A completely new media from our friends at Canson, the Canson Infinity Arches 88 is made from 100% cotton, offers an ultra-smooth surface finish and a soft and supple feel to the touch. ARCHES® 88 has a pure white tone and is completely free of any optical brighteners (OBAs).
The unique inkjet receiving layer produces prints with superb colour rendition, deep blacks and natural whites offering photographers, artists and printmakers the opportunity to create images with a superb tonal range, excellent highlights and mid-tones.
ARCHES® 88 is a prestigious printmaking paper and offers artists, printmakers and photographers alike the ability to create digital fine art prints on an authentic ARCHES® paper for both limited and open edition work.
We can't wait to get our hands on it! Stay tuned for the results.
Here's some specs for you printing techs.