Canson Infinity Arches BFK Rives has a rich history.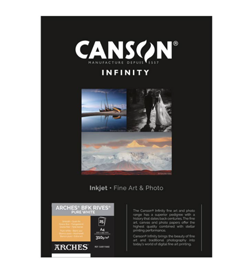 The original BFK Rives was a warm tone media not always suitable for certain subject matter. Well now we have the best of both worlds with 2 types of BFK Rives, both with the beautiful mould made texture that we know and love but now it also comes in a Pure White and whiter and brighter option.
Introducing BFK Rives Pure White and BFK Rives White.
Let's start with BFK Rives Pure White.
BFK Rives® Pure White is a 100% cotton paper which has a perfectly balanced soft grain that brings out the detail in every image. This unique printmaking paper base is manufactured on a traditional cylinder mould press at the ARCHES® paper mill, one of the oldest papermakers in France. As a result of using 100% cotton and the time-honoured manufacturing process, the paper has a very soft and supple feel. The paper has a pure white tone and is completely free of any optical brighteners (OBAs).
The unique inkjet receiving layer produces prints with superb colour rendition, deep blacks and pure whites offering photographers, artists and printmakers the opportunity to create images with superb tonal range, excellent highlights and mid-tones.
BFK Rives® Pure White is a prestigious paper and offers artists, printmakers and photographers alike the ability to create digital fine art prints on an authentic ARCHES® paper for both limited and open edition work.
Stay tuned for another post on the BFK Rives White soon!