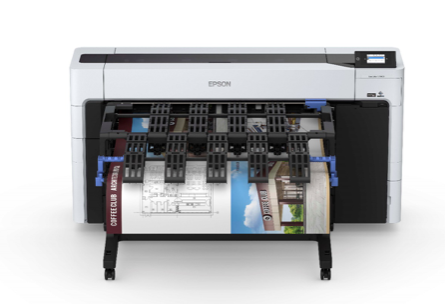 Epson has introduced a new generation of production-class SureColor T-Series wide-format printing solutions with an innovative, compact design.  Five new SureColor T-Series 24-, 36- and 44-inch dual-roll models are slated to launch later this year. The SureColor T7760D 44-inch dual-roll printer will be available first.
Developed from the ground up, the all-new SureColor T-Series models include Epson's latest 2.64-inch PrecisionCore print head which provides outstanding image quality while enabling higher-speed performance than previous-generation models. The new, compact industrial design provides a small footprint for space-constrained production environments. The latest models also incorporate a number of new features that improve usability and streamline workflow and media handling, including Adobe Embedded Print Engine standard on most models, dual rolls, built-in take-up reel for roll-to-roll printing, complete front operation, easy automatic roll loading and optional, foldable production stackers.
"Not only do these new T-Series printers deliver significant speed and functionality enhancements over the previous generation and compared to competitor models, but a tremendous amount of development work has also gone into making them as compact as possible. They sport a truly innovative design that fits into any shop or office space, even when space is limited," said Epson GM, Marketing Bruce Bealby. "The T-Series line of printers is a focus for Epson with nine models in the family already. Built on decades of imaging expertise, these new additions deliver production-class performance in a compact form factor and come with powerful software to help modern businesses improve workflows and streamline project delivery."
The first available SureColor T7760D delivers posters and POP displays at speeds over 28 m2/h and CAD and technical drawings at production-class speeds over 130 m2/h, making it the fastest in its class.
The new line delivers a range of features designed to revolutionise business productivity, including: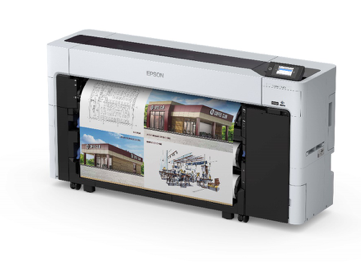 – Advanced performance: Delivers crisp, detailed, colourful prints using a reliable 2.64-inch PrecisionCore Micro TFP printhead, producing remarkable prints at speeds over 130 m2/h
– Superior image quality with UltraChrome XD3 6-colour inks – including a new red ink. Produces durable prints with crisp lines and vibrant colours for graphics, signage, blueprints, documents, and more.
– Compact design for small spaces: 22% smaller than the previous generation with a sleek design that simplifies workflow and features a usable flattop design, complete front operation, and small footprint for space-constrained environments.
– Seamless, dual-roll productivity:  Included in five new models to accommodate two media types or sizes, or so the second roll can be used as a take-up reel for roll-to-roll production
– Easy to use and maintain: Configurable 4.3-inch touch screen control panel for simple operation, automated routine maintenance and convenient user self-service for long-term operation
– Adobe Embedded Print Engine: High-speed processing and PDF printing convenience powered by a powerful Adobe Embedded Print Engine with four onboard Intel Atom CPUs. Provides up to 3x faster2 processing of complicated data and accurate printing of transparent layers than previous generations, with PDF RIP resolution up to 1200 dpi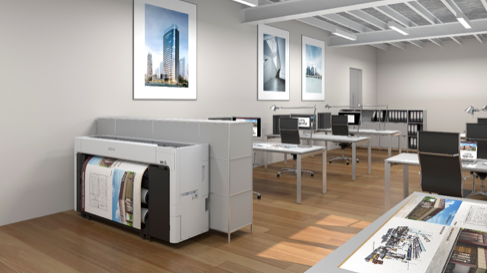 – Epson Cloud Solution PORT: Remotely manage and monitor entire printer fleets cost-effectively with a convenient dashboard on laptops or smart devices, including production rates, page and square meter counters, printer status, and equipment utilisation
– Versatile media handling: Print on a wide range of media, including glossy, bond, matte and speciality media, and rigid poster board up to 1.5 mm thick
– Versatile connectivity:  High-speed USB 3.0, Gigabit Ethernet or Wi-Fi connectivity (2.4 GHz and 5 GHz) options to fit virtually any production workflow
– Enhanced security features and IT tools: 28 IT security features to assist with data production, communication security, and access control, including IC card option for user control and tracking, SSD encryption and IEEE 802.1x
– Expandable options: Optional adjustable production stacker available in 24-, 36- and 44-inch versions; optional 960 GB solid-state drive to save jobs directly on the printer, freeing up bandwidth for repeat jobs
The SureColor T7760D 44-inch dual-roll model will be the first available in Q4 2021, pricing to be announced closer to launch. The forthcoming 44-inch wide 1.6L ink pack version, 36-inch wide, and 24-inch wide versions will also be available in late Q4 2021. Optional production stackers will be available in Q4 2021 in 24-, 36- and 44-inch versions.
We are told by our friends at Epson that we should see the Surecolor T7760D by the last quarter 2021. Stay tuned.