On our way to our first target of one thousand trees, 290 trees planted in May. That's now a total of 743 trees this year; thanks so much for your support.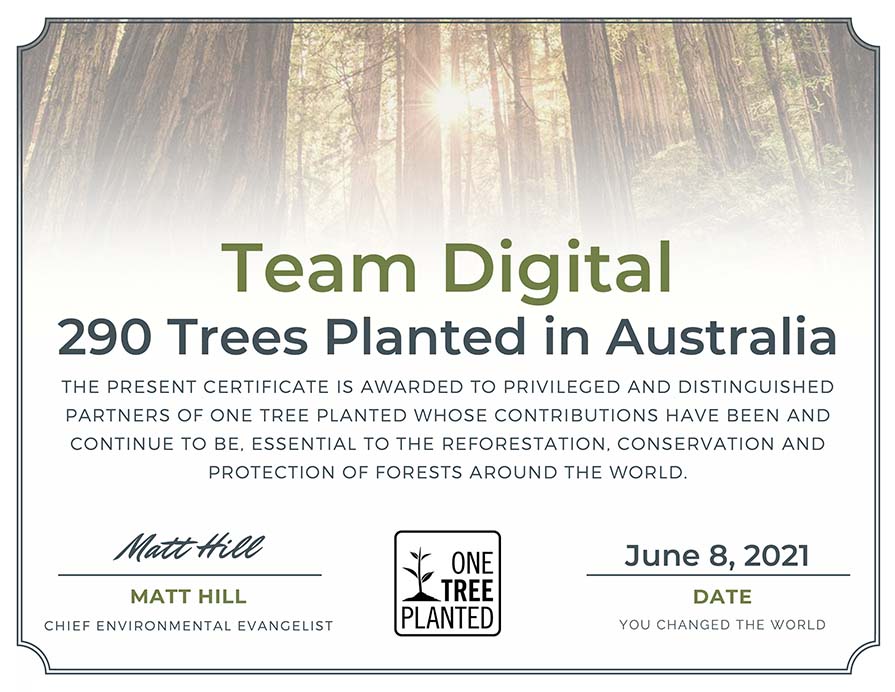 One Tree Planted has many great partners in Australia to restore the country's native forests following last season's catastrophic bushfires. Efforts are focused on mobilising support for replanting efforts, developing nurseries and planting millions of trees with an army of volunteers and professional crews. Your support helps ensure we're ready to hit the ground running. By planting trees in Australia, you're creating habitat corridors for koalas in New South Wales and Victoria, enhancing biodiversity in Western Australia, as well as promoting sustainable and regenerative agriculture practices with landowners.
Thanks so much to everyone who participated in this tally. We look forward to growing it this month and well beyond.
This wouldn't have been possible without the support of our print partners Ilford Australia, Canson and Epson Australia.
If you don't know how to get involved it's super simple and it doesn't cost you anything! Just leave it to Team Digital and One Tree Planted. You'll feel even better next time you buy a pack or roll of Canson, Ilford and Epson media.

If you were one of the amazing companies or individuals that helped with the tally you can request a digital certificate by contacting Ben via email.