Nanlux introduces the all-new Evoke 1200. A groundbreaking 1.2kW LED spot light which blends unprecedented levels of crisp, bright LED illumination with multiple configuration options.

The Evoke 1200 delivers stunning levels of flicker free, controllable light , comparable to that of a 1.8kW PAR or 2.5kW HMI Fresnel.
CRI:96  TCLI:97

Naturally Bright
The ingenious design of the COB delivers extremely powerful, natural looking light.
Solid Design

Functional design, robust construction and IP54 rating makes the Evoke ideal for use in almost any conditions.
Ultimate Control

Fully controllable, the EVOKE 1200 supports both wired and wireless control via Nanlink APP, DMX/RDM, Bluetooth and Lumenradio TimoTwo.

Incredible Versatility

The Evoke 1200 is compatible with a selection of lighting shaping tools, accessories and modifiers. The large aperture and sturdy fixings of the NL mount allows the user to quickly switch between optics to sculpture, shape and modify the output with absolutely no compromise in beam quality, color or intensity.
New Nanlux Light Modifiers



Precision Performance

The highly accurate user interface, with its 0.1% precision allows for pin-point accuracy in both output and intensity.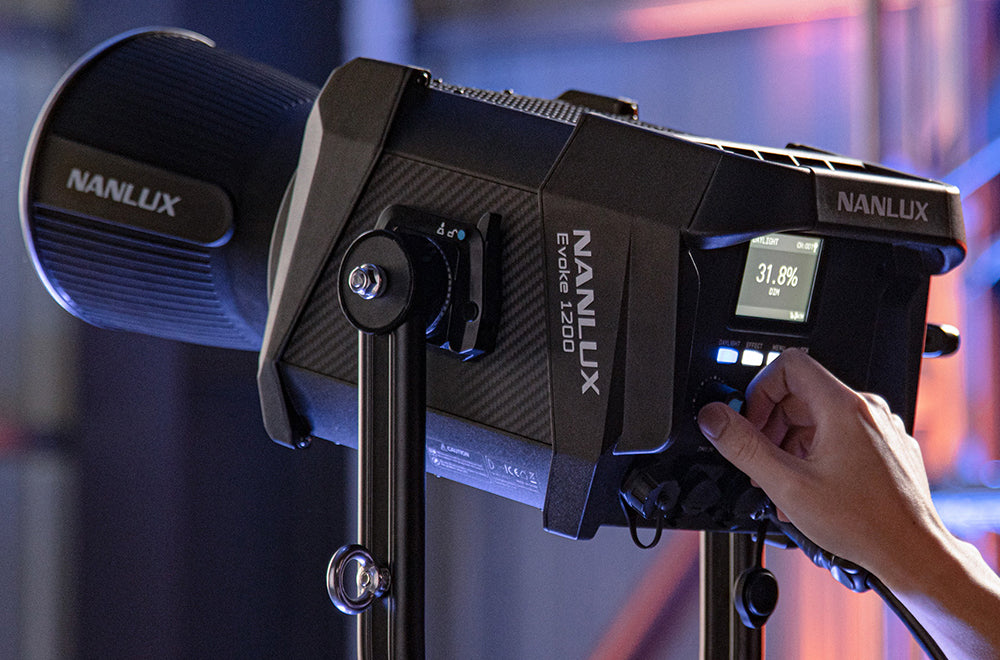 All The Light You Need

The Evoke 1200 has been developed by the Nanlux technical team. By listening to our customers feedback and carefully studying the needs of the end user, we have been able to create a truly versatile fixture that delivers powerful, flexible output, in almost any conditions. With a perfect balance of simple, intuitive operation, with versatile, controllable output, plus the capability and convenience of LEDillumination, the Evoke 1200 is all the light you need.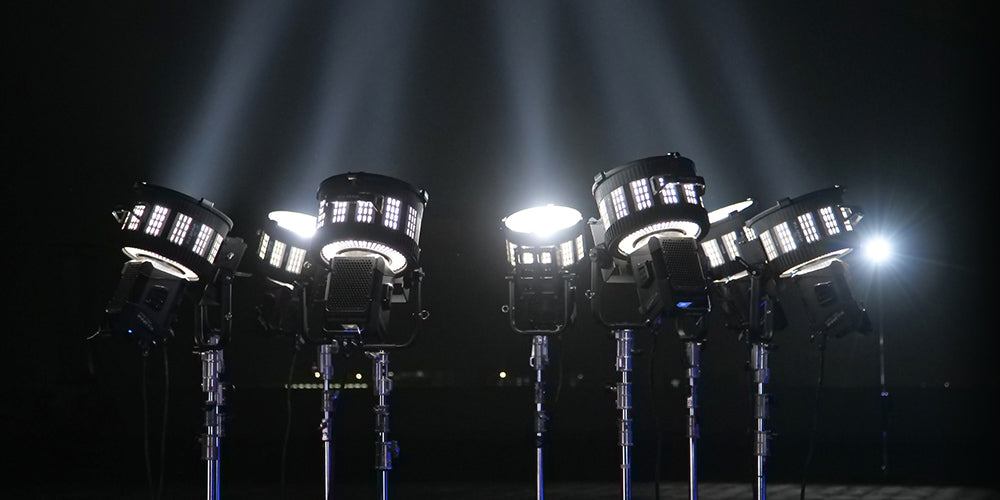 Adopting a popular, easy-to-use form factor, this Evoke 1200 LED Light from Nanlux has a daylight color temperature of 5600K and a high CRI/TLCI rating of 96/97 to indicate precise accuracy in color rendition. The fixture with yoke measures 19.8 x 14.5 x 8.3″ and will give you 18,400 Lux with the included 45° reflector, rivaling the output of a 1.2K incandescent fixture. It is dimmable from 0 to 100% and you can make power adjustments and turn the unit on and off locally on the light as well as from a remote console or wirelessly via 2.4 GHz signal, Bluetooth, DMX/RDM, or LumenRadio. You can turn the quiet fan off for in sound-sensitive situations.

One of the many benefits is a library of special effects including INT Loop, Flash, Pulse, Storm, TV, Paparazzi, Candle/Fire, Bad Bulb, Fireworks, Explosion, and Welding. The light is ready for worldwide use thanks to its universal power supply, but it can also run on optional batteries when mains current is unavailable. Optional accessories include a variety of softboxes and the FL-35 Fresnel lens.
Features:
Color Temp: 5600K, CRI/TLCI: 96/97
Bluetooth, Wired or Wireless DMX
Optional Battery, IP54 Weatherproof
Optional Softboxes and Fresnel Lens
11 Special Effects, Dims 0 to 100%
NLM200 mount

Specifications:
EVOKE Technical Data

Model

Evoke 1200

Rated Power

1200W

Input Voltage/Current

DC48V/25A Max, AC100-240V 50/60Hz

CRI

96

TLCI

97

CCT

5600K

Dimming

0-100% in ultra-precise intervals of just 0.1%

IP Rating

IP54

Control

On-board controller, 2.4G, Bluetooth, DMX, RDM, LumenRadio, Wire Control

Effect

INT Loop, Flash, Pulse, Storm, TV, Paparazzi, Candle/Fire, Bad Bulb, Firework, Explosion and Welding

Product Size

Light Fixture (without Yoke): 330x241x210mm / 12.99×9.48×8.26″
Light Fixture (with Yoke)

:

503x370x210mm / 19.8×14.56×8.26″
Power Supply

:

376.5x181x246mm / 14.82×7.12×9.68″

Product Weight

Light Fixture: 6.94kg/15.3lb
Yoke: 1.84kg/4.05lb
Power Supply: 10.5kg/23.14lb

Configuration

Evoke 1200 x1 / Yoke x1 / Power Supply x1 / Reflector x1 / Connecting Cable 5M x1 / Power Cable 4.5M x1 / USB Flash Drive x1 / User Manual x1 / DMX Reference Guide x1

Illumination (lux/ fc)

CCT

5600K

Distance

3M

5M

7M

10M

Light Only

5532 lux/514fc

2373 lux/220 fc

1266 lux/118fc

679 lux/63 fc

With Reflector

18460 lux/1715fc

6583 lux/612fc

3671 lux/341 fc

2021 lux/188 fc

With Fresnel Lens 11°

65280 lux/6065 fc

22080 lux/ 2051 fc

11765 lux/ 1093 fc

6308 lux/586 fc

With Fresnel Lens 30°

25560 lux/2375 fc

10640 lux/988 fc

5674 lux/ 527 fc

3043 lux / 283 fc

With Fresnel Lens 45°

15170 lux/ 1409 fc

5718lux/531 fc

3065 lux/285 fc

1644 lux/153 fc

Package Contents:
1x Nanlux Evoke 1200 LED Light
1x Yoke
1x Power Supply
1x Reflector
1x Connecting Cable (16.4′)
1x Power Cable (15′)
1x USB Flash Drive
1x Limited 3-Year Warranty