The Art of Performance the Epson Surecolor P7560
We believe technology has the power to push creative boundaries, exceed the limits of imagination and propel artistry to new heights. That's why, after 20 years of perfecting wide-format printing technology, we are ready to unveil our most advanced printer to date, designed to transform your artistic vision into a truly unforgettable experience.
Introducing the all-new SureColor P7560, the next generation of wide-format printing—only from Epson.
From professional photography to proofing and graphic design, the SureColor P7560 was built from the ground-up to uniquely cater to the full spectrum of creative needs. Featuring all-new UltraChrome® PRO12 Ink, the SureColor P7560 captures every detail with unparalleled colour brilliance2 and accuracy. And, with a new 2.6″ PrecisionCore® printhead, you get unmatched image quality at speeds up to 4 times faster than our previous generation1.
Welcome to the future of professional imaging.
The SureColor P7560 is a 24″ (610mm) Large Format Printer that is designed for premium photo, fine art, proofing & packaging design. It supports a wide range of roll and sheet based media and features an all new PrecisionCore MicroTFP print head with Variable Sized Droplet Technology™ for output with superior resolution, gradations and colour density. It uses the new UltraChrome® Pro12 all-pigment aqueous ink for quality colour and premium B&W output that is consistent, predictable and durable. The SC-P7560 cartridges feature an extra-large capacity for extended operation with a low cost per print due to the new PrecisionCore printhead and reduced running costs. The printer also includes new sub tanks so you will not run out of ink during a print job again4. The printer ships with a fabric retractable output bin for cut sheets. An optional HDD is available for efficient workgroup operation with print server and reprint functionality along with an optional a high-speed Postscript® module which includes a HDD meaning users can directly print postscript files (PDF, EPS) and raster files (JPEG, TIFF) without the need of a PC.
Our most advanced wide-format printer yet

 – tackles photography, fine art, proofing and graphic design printing with unmatched image quality and performance

Powered by PrecisionCore

 – new 2.6″ printhead performs at speeds up to 4 times faster than our previous generations1

Extreme colour gamut

 – all-new UltraChrome PRO12 Ink with 3 levels of Black and Violet producing astounding colour with up to 99 percent coverage of the PANTONE® FORMULA GUIDE solid-coated standard2

Realtime Photo and Matte Black ink switching

 – dedicated nozzles for both black ink types

Industry-leading print permanence

 – creates prints that last up to 200 years colour and 400 years black-and-white3

New customizable touchscreen

 – first-in-class to feature a customizable, 4.3″ colour touchscreen for easy navigation

Reliable printer design

 – redesigned industrial-level print engine for lasting durability and an interior LED light for convenient operation

Increased black density with Black Enhance Overcoat

 – improved Dmax for a wider contrast ratio with enhanced clarity and increased sharpness on glossy papers
Optional SpectroProofer® – automates colour calibration and proof verification tasks for proofing applications with optional third-party RIP and workflow software

Easy workflow integration 

– compatible with a range of third-party RIP and workflow software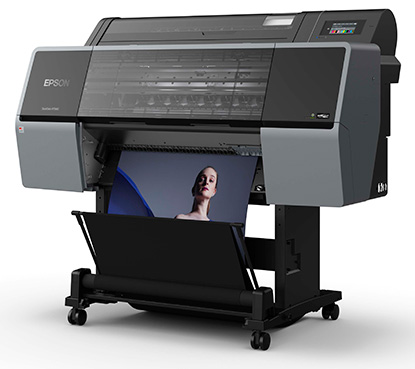 Supreme Imaging
The SureColor P7560 series features Epson's patented PrecisionCore Micro TFP head technology with a 2400x1200dpi resolution. Unlike competing mechanisms that are based on heat, the Epson print head uses an electro-mechanical movement that is kinder to the ink chemistry, for better imaging with more stable output. While consuming less power and less ink, it is also more accurate, flexible and durable. Micro-fine drop-on-demand nozzles enable precise dot shaping, placement and volume/density control for more consistent results with less wastage. Variable-size Droplet Technology (VSDT) enables superior half-tones and optimised colour density with minimum ink consumption. Twelve active channels are driven by an advanced LUT (Look-Up-Table) and a 12 cartridge ink supply system to provide an enhanced colour range. Dedicated Matte / Photo Black ink lines ensures the maximum possible dynamic range is achieved on a wide variety of media types and there is no extra ink wastage. Self-monitoring, alignment and cleaning systems ensure predictable, consistent and reliable output with minimal user maintenance.

12 channel PrecisionCore Micro TFP print head
When Epson launched UltraChrome K3 it established a new standard for aqueous (water based) ink technology. Epson has created a new ink for the SureColor P7560 series, the UltraChrome Pro12 ink set which adds an extra black(grey) ink to give this printer 4 blacks and 8 colours which increases the colour gamut even wider than its predecessor. With the addition of ink sub tanks you will have the certainty your print job will keep printing if the ink runs out. Using an all-pigment formulation, it produces prints that dry quickly to become water and scratch resistant with a high Dmax. Colour is stable in just 30 minutes and can remain lightfast for approx 60 years*.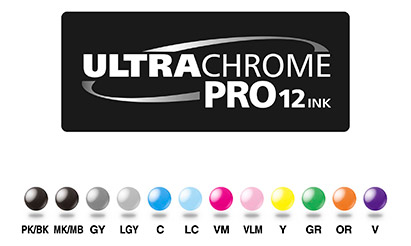 The SureColor P7560 range is colourimetric calibrated during assembly to ensure that colour proofs/images from different printers of the same model remain totally consistent. The ink features a colour constancy level of less than DeltaE 1.0 so that prints remain visually consistent when viewed under different lights and lighting conditions.
Flexible and Easy to Operate
The SureColor P7560 is a floor-standing printer with a 24″ (610mm) wide carriage with improved flexible media handling. It supports basic bond paper, photo paper, transparent film, translucent back-lit and specialist synthetic media. It accepts roll media via a spindle mounting with integrated tension adjustment and has a high-speed auto-cutter which will cut most stocks. The printer ships with one spindle that supports rolls with either 2″ or 3″ cores. Additional spindles can be ordered separately for environments that involve high volume work with multiple media types. An integrated barcoding system helps track individual roll consumption while also enabling rapid exchange with automatic re-configuration for different media types. The printer supports sheet media and has a straight through paper path for solid board. It comes with a retractable output basket. The printer supports edge-to-edge printing on sheet and roll media and will print full borderless on roll stocks.
The new SureColor p7560 has an advanced new Media Feeding System to ensure superior print quality, consistency and linearity at the highest production speeds. New inductive rollers assures accurate and consistent feed regardless of the weight of the media roll while working to ensure consistent tension and parallelism with a reduced tendency for velocity changes and skewing which can otherwise affect the output quality.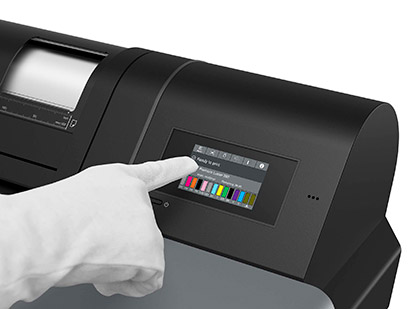 The SureColor P7560 printer have been designed for professional and commercial applications. All models feature fast and flexible networking facilities. They have a new 4.3″ touch screen with an easy to follow menu system and in-built help. The printer can be configured remotely and has driver software available to suit most operating systems. Ink cartridges are pressurised to ensure maximum output precision and feature an enhanced capacity for extended operation and a reduced cost per print. The printer confirms Epson's corporate directive for cost effective and durable operation with minimum environmental impact. It consumes Less Power and Less Ink is used to produce Superior Quality Print. Its large 700ml ink cartridges are also cheaper to purchase. Printers purchased in Australia & New Zealand are backed with a comprehensive service and support program with flexible 'heads-'n all' cover that can be extended out to a total of FIVE YEARS. **
---
1 Print speeds are based on the print engine speed only. Total throughput time for any print depends on various factors including workstation configuration, file size, print resolution, ink coverage and networking. Actual print speeds will vary.
2 99% coverage of PANTONE PLUS FORMULA GUIDE solid-coated palette based on Epson Proofing Paper White Semimatte printed with the Epson Driver at 2400 x 1200 dpi. PANTONE coverage may vary when printed under other conditions.
3Ink lightfastness rating based on accelerated testing of prints on specialty media, displayed indoors, under glass. Actual print stability will vary according to media, printed image, display conditions, light intensity, humidity and atmospheric conditions. Epson does not guarantee longevity of prints. For maximum print life, display all prints under glass or lamination or properly store them. Visit www.wilhelm-research.com for the latest information.
4 There will be approximately enough ink to print a B0 sized print.