The Epson® SureLab™ series is a versatile range of commercial photo printers. Designed for fast and cost-effective production, they suit a wide range of applications including studio and event photography, in-house ID and brochure production, in-store kiosk and print-for-pay operation. They can produce a wide range of material including consumer and professional photo images, business cards, greeting cards, invitations, awards, menus, order forms, cards, and calendars. Unlike traditional Silver Halide 'wet-lab' technology, they require minimal space, consume very little power, and employ no chemicals. SureLab printers are simple to install, easy to operate, and require minimal maintenance. Unlike competing Thermal Dye Sublimation technology, they are inexpensive to run, easy to load, and provide high durability. Print quality is exceptional and the output format can be adjusted 'on-the-fly'.

The SL-D1060 Dry-film Minilab is designed for low-medium volume production. It can be operated as a standalone machine or in multiples for heightened production. It incorporates a high precision Epson Micro Piezo™ Thin Film Print™ (TFP) head that enables accurate and consistent output in resolutions up to 1440 x 720 dpi. It features an upgraded 6-colour ink set that is applied using Variable Sized Droplet Technology (VSDT), for outstanding image quality with an enhanced gamut and dMax. Staying true to the SureLab series, the D1060 is compact, lightweight, and requires minimal operational space. It can produce up to 460 4×6″ borderless prints per hour, using cost-effective sheet and roll-based media that comes in sizes ranging between 3.5″ to A4, with a variety of surface finishes. The printer ships with a powerful Windows® and Macintosh® OS driver to enable operation, with standard photo and graphic software. It can also be used with optional Epson Order Controller to provide a full production system complete with costing, image editing, job scheduling, and load balancing.


FEATURES AT A GLANCE
High Flexibility 

– outputs single-sided prints (borderless or with a border) on cost effective roll-based media. An optional Duplex unit allows for double-sided prints on sheet media.

High Productivity

 – up to 460 4×6″ prints per hour in production mode with a 18.5s rapid single-print mode for event operation.1

High Precision

 – Epson Micro Piezo TFP for predictable and consistent output in resolutions up to 1440x720dpi with VSDT for with superior halftones, precise colour and density control.

High Quality

 – Epson UltraChrome D6r-S ink with a low-heat media output slot for prints that exit dry with high depth, vibrant colour, and a durable, scratch-resistant finish.

Flexible Output

 – uses a new range of Gloss and Lustre roll media in widths from 3.5″ to A4 and will print in lengths from 50mm to 1m. With the optional duplex unit it can also be used with double-sided sheet media, available in a variety of sizes, finishes and weights5.

Expanded Media Range

 – a new range of Gloss and Lustre roll media in widths from 3.5″ to A4, and Gloss and Lustre double-sided sheet media print with and without borders in lengths from 50mm to 1m5.

Easy to Operate

 – simple to use with desktop control and direct control complete with an LCD screen. Features all-front-loaded consumables with no special handling processes, an integrated auto-cutter, front-mounted paper cut waste bin and pop-up output tray. Print direct from common photo applications or use optional Epson Order Controller for easy production with job costing, image editing, job scheduling and load balancing.2

Easy to Integrate

 – high speed USB, Ethernet and Wi-Fi interfacing, ultra-compact and light-weight with low power consumption & heat output. Can be operated on a desk or installed in a kiosk cabinet2. Supplied with an advanced Windows & Macintosh driver. Supports Epson Cloud Solution PORT for enhanced remote monitoring and analysis.

High Durability

 – 400,000 print duty cycle, backed by a comprehensive service cover that can be extended up to 5 years.4
Quality Results at High Speed
The SureLab range has been designed to facilitate high-speed photo production with superior image quality and control. Printers feature a solid construction, with a convenient roll-based media supply and a fast print engine. When used as intended, they provide durable operation, without the cost or inconvenience of periodic maintenance from a specialist. All models incorporate Epson's patented Thin Film Print™ (TFP) heads with self-monitoring micro-fine nozzles that enable high-resolution output with consistent and predictable performance. Integrated Variable-Size Droplet Technology (VSDT) provides enhanced clarity and halftone performance with fine image control. Prints are more consistent and feature superior resolution, colour, intensity, and gloss levels over alternative technologies such as Thermal Dye Sublimation and Silver Halide.

Epson UltraChrome D6r-S ink has been formulated further to deliver enhanced results with the D1060. It features an advanced dye-based formulation with an enhanced Gamut and DMax to enable imaging with superior colour and brightness. Image quality is outstanding and prints feature high durability with good light and ozone stability. A media output heater ensures that prints exit dry with a high-gloss finish that is resistant to damage through scratching, rubbing and moisture exposure.
Maximising Business Potential
The SureLab range has been designed to provide maximum production flexibility, especially with the newly-introduced Duplex unit. They can be used to print standard commercial grade photos in a wide range of sizes, with or without borders. They can also be used to print ID and passport photos. They can even be used to produce premium grade portrait prints, as well as specialist banner and panoramic artwork. The Duplex model is even efficient at photobook and calendar applications through use of Epson's new SureLab double-sided sheet media.

SureLab printers will accept files from many of the common photo editing, graphic design and imaging applications. With appropriate software it is possible to produce a wide range of material including calendars and awards, invite and name cards, product fliers and restaurant menus, and celebratory and event notices. Epson SureLab Paper has been designed to ensure premium quality results. It can be ordered in a choice of Gloss and Lustre varieties, in a range of widths to suit different applications, across both single-sided rolls and double-sided sheet media5. The D1060 includes additional 3.5″ media support for production of ultra-small items including passport photos, business cards, and gift tags.

Easy Installation with Flexible Configuration
The SureLab range has been designed for simple and easy installation. Unlike competing commercial photo equipment they need minimal operational space, connect to a standard power supply, and do not require special ventilation. They generate minimal noise and can be operated in a wide range of business environments. The D1060 can be connected via high speed USB 2.0, as well as Ethernet and Wi-Fi. Multiple SureLabs can be combined for scalability and optionally augmented with additional Epson Large Format photo printers for an integrated production platform covering everything from passport photos up to large canvas prints.

All consumables on the D1060 are front-loaded, 250ml ink bags. It uses inexpensive ink and has a front-mounted paper cut waste bin that is simple and easy to empty, situated behind the removable flip-up output media tray. The printer features a light and compact design that is small enough for transport to events and has reduced power requirements for operation on cruise ships and in mobile / temporary locations. The printer can be operated on a desk or mounted in a kiosk enclosure2.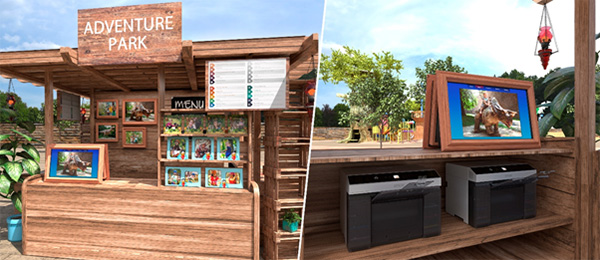 Easy Operation with Low Maintenance
SureLab printers have been designed to enable easy, low-maintenance use. The D1060 Simplex model feature front-loaded consumables and use roll media with spindle loading, while the Duplex option has an automatic sheet feeder in a robust, easy-to-install unit, which is installed underneath the main machine. This Duplex option only requires a screwdriver to install, and user guides are available on the LCD screen on the front of the machine. The D1060 ships with one spindle and additional spindles can be ordered separately, for simplified media storage with rapid exchange. It has an integrated flip-up output tray that is extendable to suit prints of varying lengths.

SureLab printers are quick to start up and simple to shut down. They require minimum power when operating and have automatic power saving when in standby or in sleep mode. Unlike traditional commercial photo equipment, they do not require expensive periodic servicing from specialists. Maintenance is simple and can all be done by the operator with easy-to-follow instructions that are presented on the LCD screen. Printers require minimal training to operate and can be driven with a wide range of common workflow, graphic design and photo applications. The D1060 ships with a powerful Mac/Windows driver that includes an adjustable colour space for precision premium work.

The D1060 can also be driven with optional Epson Order Controller software. The software features a simple and functional interface that provides facilities for image upload, editing, job costing, production scheduling and control. When operated with multiple SureLab printers it can be configured to split and balance job loads3; the software can then additionally be used to drive a range of Epson Large Format printers to enable a full production environment for photos, posters and canvas work3.

SureLab printers are designed to provide consistent and reliable performance. They are backed with a comprehensive one-year warranty that covers all non-consumable components including print heads. On-site repair is provided at no additional charge for equipment located within metropolitan areas. Service cover can be extended up to a total of 5 years with addition of one or more CoverPlus Packs (purchasable with the printer or separately)4