The Elinchrom Newborn kit is ideal for photographing a range of subjects, especially newborn babies. It produces a beautiful soft light that is perfect for Newborn photography.
Umbrellas are very popular with all types of photographers from beginners all the way to professionals. Umbrellas are affordable, easy to work with and very easy to transport. The Xlite Jumbo series of Umbrellas are remarkably reliable and sturdy for their size and lightweight. The fabrics have been made to provide a superior quality of light over years of heavy-duty use. The white versions create an even, diffused light with soft shadows, and the closer the umbrella is placed to the subject, the softer the shadows will be.
The Elinchrom Newborn Kit is perfect for everyday use with various subjects as it bounces the light from the flash unit, retaining high efficiency with a wide angle of coverage. The soft white fabric produces a controlled, feathered fall off with very soft shadows, perfectly round catchlights.
This Xlite Umbrella opens quickly and easily, mounting like a conventional umbrella for easy setup. The shaft is re-enforced for strength and fits any flash unit with a standard 8mm umbrella mount. The Lastolite umbrella mount provided fits the top of the 2m light stand to provide support for the umbrella and the ability to tilt the flash to meet your needs.
The white surface of the umbrella will provide the softest light output and is best suited when photographing newborns or portraits. When used directly as a bounce modifier, it provides a much larger spread of light than of a softbox and features a controlled, patterned feathering. Its black outer surface prevents rear spill light and lens flare.
When very soft, low-specularity lighting is desired, the addition of the translucent diffuser results in an extremely even, low profile, front-fed softbox that rivals or exceeds the very best on the market. The area of coverage is widened to approximately 150° of absolutely even light, with a corresponding drop in output to similar levels as conventional softboxes.
Features:
Lightweight and portable.
Very easy umbrella-style mount (8mm pole)
Heat resistant, high-quality fabrics.
Delivered with a bag that protects the umbrella during storage and transport.
Wider coverage with controlled, feathered fall-off
Very soft shadows with perfect round catchlights
Meticulously designed arc shape for even light
12 Month Warranty and 24 Months on the Elinchrom components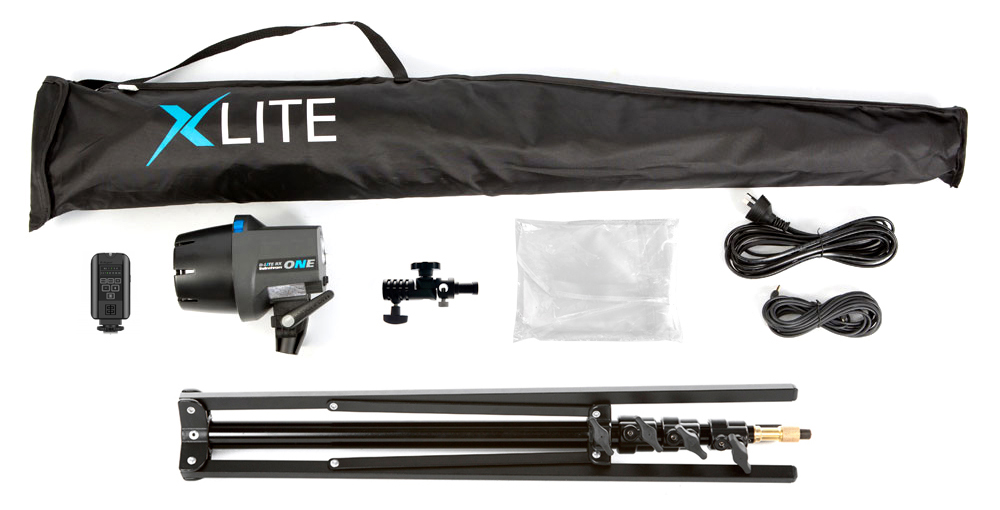 Elinchrom Newborn Kit Includes:
1 x Elinchrom RX ONE Studio Flash Head
1 x Elinchrom Skyport Plus "New"
1 x Xlite 180cm Jumbo Black / White Umbrella 8mm Shaft
1 x Xlite Translucent Diffuser for Umbrella 180cm
1 x Xlite Compact Reversible Stand 2.1m
1 x Lastolite Tilt Head
1 x Power Cable
1 x Sync Lead
12 Month Warranty and 24 Months on the Elinchrom components
Free Freight into any Australian Captial City