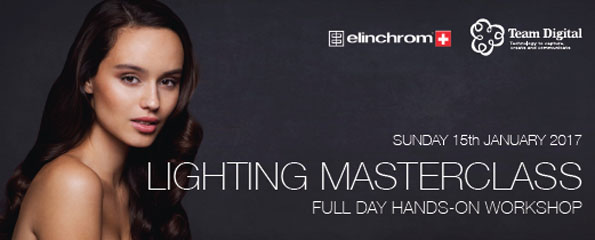 SOLD OUT
Join AIPP Master Photographers and Elinchrom Australian Ambassadors Stef King (fashion, beauty, portrait, lifestyle) and Steve Wise (wedding, fine art portraiture, commercial) for a FULL DAY Masterclass and hands-on workshop where they will take you through some of their key lighting set-ups in the studio (morning session) and on-location (afternoon session), with live demonstrations and the chance to shoot alongside them.
There will also be multiple lighting stations set up for you to try out various lighting combinations with models.
You will learn ways of controlling the direction and quality of light to enhance your portrait photography and push your creativity in new directions. If you want to develop your techniques further and discover new opportunities for your photography, then this is the workshop for you.
This is an intermediate level workshop for people who already know how to use their digital cameras. Please be familiar with your camera's basic operations such as being able to manually adjust your aperture, shutter speed and ISO. Bring along your DSLR camera and lenses. All Elinchrom lighting and modifiers/diffusers will be supplied.
You can recieve a 20% if you are an AIPP member, WAPF Camera club member or an member of Snap Happy.
Just put in this code Elinchrom to voucher section of the checkout.
Date: Sunday 15th January 2017
Where: 42 Pearse St Studio, North Fremantle
Time: 9:30am start Finish: approx 5:00pm