Team Digital offers a variety of ways that you can complete your training. Each Course Style is described below to help you choose the training method that best suits you.
Seminars
Information sessions aimed to provide an introduction and overview of software and products so that attendees can decide to whether it is relevant to their needs and what further training may be beneficial.
Hands-on workshops
A structured training program where each person is allocated a computer workstation. Class sizes and course content are designed to equip attendees with the skills to navigate through the software and to utilise the various tools to the level chosen. Courses are offered for beginners through to intermediate and advanced levels and come in two forms:
a) Short half day specialist courses
b) One or two day comprehensive training programs.
One-on-One Mentoring
Here the client works exclusively with the trainer on those elements of the software that are most relevant to their particular needs. Aims to give the student a high level of proficiency in those areas that are required to be used on a daily basis.
Custom Group Sessions
Conducted at either Team Digital or at the client's premises, these sessions aim to equip a group of students with the skills most appropriate to their workplace needs. Courses can be tailored to incorporate live workplace data so that the group can duplicate exactly their daily experiences.
Consultancy
Allow our industry experts to assist you to develop workflow procedures and training programs that will put your company ahead of the pack.
Customised Training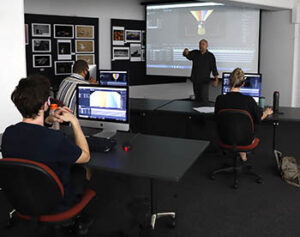 In addition to our regularly published Course Calender, we offer customised training on a broad range of topics that can be carried out on your site or ours.
The obvious advantage of customised training is that you can work on your own machine, address your workflow, work with your documents and optimise your machine all as part of a customised training session. You can use your particular project as training material and with the trainer alongside you can get work done whilst acquiring the necessary skills. A preliminary planning session with one of our trainers is normally the best way of developing a course that best targets your needs.