We have recently added the Kata FlyBy bags to our range because they fill an important need for those customers, who travel regularly with a full photographic kit including laptop.
The FlyBy-76 will house and protect a large amount of gear in it's main compartment with accommodation for between 2-4 DSLR camera bodies along with 8-10 lenses (up to 600mm), some flash equipment and a variety of photo accessories.
The numerous modular Aeroform Dividers can be arranged to custom fit your gear needs and there is a full-length Elasto-Guard protected 17" laptop compartment which folds out of the bag for easy access.
The laptop slides out easily without having to fully open the bag, ideal for airport security checks.
The provided insertrolley further enhances the convenience of the Kata FlyBy-76 at airports and this can be removed when not needed so that the bag becomes a shoulder bag with the strap provided. Attach a tripod to the front of the bag with the two fast connection straps and you have got the lot in one convenient package.
The Kata's FlyBy series also comes in a slightly smaller version, the FlyBy-74.
The main compartment will protect and organize a large amount of gear such as 1 to 2 DSLR camera bodies with 6-8 lenses (up to 400 mm), flash and many other photo accessories. Use the numerous modular Aeriform Dividers to custom fit your exact gear needs.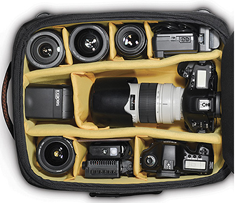 Along the back panel is a full length Elasto-Guard 15.4″ laptop compartment which when not in use just flattens out of the way.
And cost a lot less than you would think.
FlyBy 74 $315
Flyby 76 $360
Dont forget about the Kata Landscape Seminar which is free when you purchase a Kata bag