The clever people at Wacom have done it again, the new Wacom Bamboo Stylus is a must have for anyone that has a iPad. Not only have they made a slim responsive stylus, better than anything else on the market. They have coupled it with ultimate paperless communication tool "Bamboo Paper".

Bamboo Paper, a seriously fun new app from Wacom, provides you with the ability to create virtual notebooks for your iPad, letting you share your ideas visually with handwritten notes, sketches, signatures for contacts and lots more.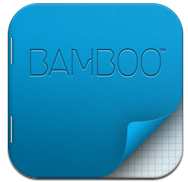 Best of all Bamboo Paper is free until the end of June. So if you are thinking about getting a Bamboo Stylus then it might be worth your while downloading the app now for free. Because after that you are going have to pay whole $ 1.99.
We are now taking orders for the fantastic new Wacom Bamboo Stylus which is due in the next few weeks so get in quick!