Fuji has just announced the new Fujifilm X-Pro1, which follows on from the amazingly successful X-100.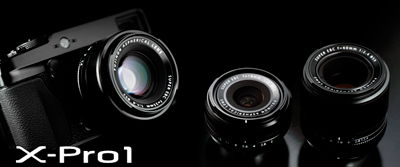 Ok, so what's it all about?
New APS-C 16MP X-Trans CMOS sensor
New color filter array inspired by film paves the way for an ideal sensor that does not need an optical low-pass filter.
Fujifilm has developed 3 new single-focal length lenses
XF18mmF2R
XF 35mm F1.4 R
XF 60mm F2.4 R Macro
Specially designed to deliver improved center-to-edge resolution and brightness free from chromatic aberration, each lens is a masterpiece of FUJINON optical engineering and quality, and features all-glass fabrication of the aspherical lens and other lens elements, as well as treatment with FUJINON's original Super EBC coating. From the solid feel of the high-quality metal barrel, to each click of the 1/3-step aperture ring as you fine-tune your exposure, this is a lens that photographers dream of.
X-Pro1's slim profile mount
Specifically designed to maximize the mirrorless design of the body, the X-Mount has a short flange back distance of just 17.7mm. This means the rear lens elements are as close as possible to the sensor. The wide opening allows the lens to be mounted deeper within the body — up to 7.5mm (approx) from the mount surface — reducing the back focus distance of each lens to the minimum possible, thus achieving high resolution all the way to the edge of the image.
Design and Style
You decide, we think its looks pretty damn fine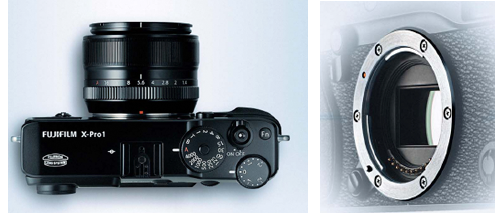 Check out the video and see what you think
Want more information?