While we are all getting very excited about the camera's released recently. Canon released a product yesterday that will make photographer's lives that much easier. The 600EX-RT Speedlite flash.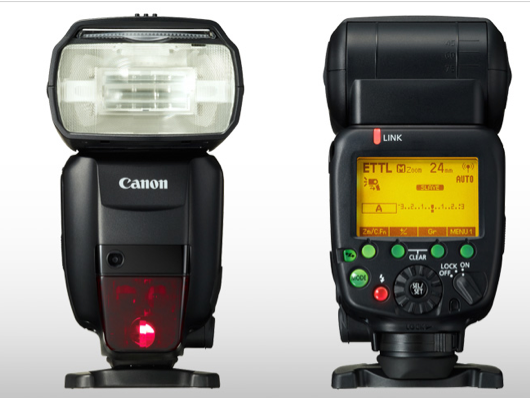 Canon tell us that this model has big improvements in performance, reliability (dust and water resistant design) and operation.
New wireless multiple flash system using radio wave communication for enhanced control of up to five groups of flashes.
Zoom flash head covers wide range of 20-200mm; maximum Guide Number (197 ft./60m at ISO 100).
Redesigned contact construction, improved flash head durability, and exceptional dust and weather resistance for reliable operation.
AF Assist Beam compatible with Canon's new 61-Point High Density Reticular AF.
Dot matrix LCD panel and backlit button provide easy visibility.
Color filter holder for attaching Canon and third-party color gelatin filters.
18 Custom Functions and 7 Personal Functions for creative flexibility.
Full swivel, 180 ° in either direction.
The standout feature of this flash is the wireless radio communication. Which now means we can position our flashes for a number of different applications like inside a softbox, in direct sun, facing away from the camera, behind the camera and many more. This was not possible before with the Canon flash system unless you had some sort of external wireless trigger system. This will give Canon flash system users a new found freedom.
Part of this new system is the ST-E3-RT Speedlite transmitter.

Features
Radio frequency remote flash trigger
Fire selected Speedlites from 30m away
Part of the E-TTL II flash system
Controls up to 15 flashguns
Remote camera triggering ( via SR-N3 cable )
Weather sealed against dust and moisture.
We talking to Canon at the moment about running a workshop on this new flash system. We'll keep you informed. Stay tuned :