Do you get confused or frustrated by your flash speedlite (or external flash)?
Do you struggle with getting the right exposure or the right look when you're using your speedlite?
In this workshop, you'll learn how to take control of your flash speedlite and use it to add impact and intensity to your photographs. Presented by Seng Mah, this is a great introduction to flash photography and will equip you with the confidence and skills to use your flash speedlite.
This workshop is free to anyone who has purchased a Canon flash through Team Digital between July and August 2012.
Any purchases made after the workshop and by the end of August will get the cost of the workshop taken off the purchase price of the flash.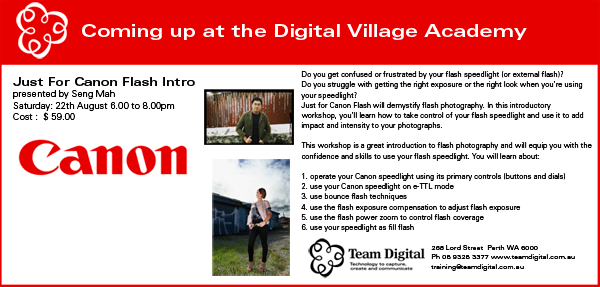 You will learn about:
1. operate your Canon speedlite using its primary controls (buttons and dials)
2. use your Canon speedlite on e-TTL mode
3. use bounce flash technique
4. use the flash exposure compensation to adjust flash exposure
5. use the flash power zoom to control flash coverage
6. use your speedlite as fill flash
Error: Contact form not found.