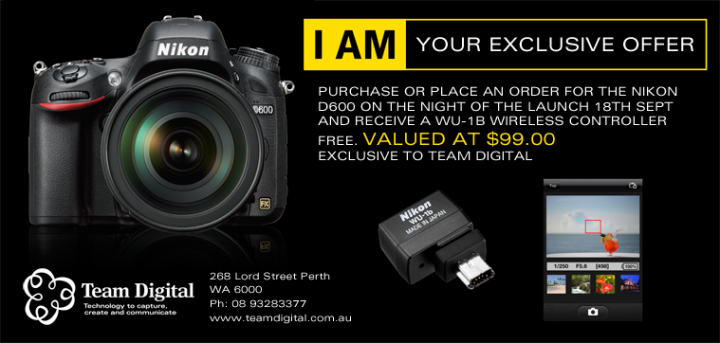 PURCHASE OR PLACE AN ORDER FOR THE NIKON D600 ON THE NIGHT OF THE LAUNCH 18TH SEPT AND YOU WILL RECEIVE A WU-1B WIRELESS
CONTROLLER FREE. VALUED AT $99.00 EXCLUSIVE TO TEAM DIGITAL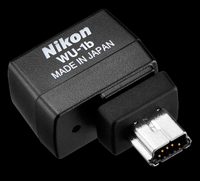 Nikon Wireless Mobile Adapter Utility
The Wireless Mobile Adapter Utility is used to establish two-way wireless connections between Nikon digital SLR cameras and iPhone, iPad, and iPod touch devices. Pictures taken with the digital SLR camera can be downloaded to the iOS device, and the camera can be controlled remotely, with the iOS device displaying the view through the camera lens. The file sharing feature makes it easy to upload pictures to social networking sites or attach them to e-mail messages.
•Overview
The Wireless Mobile Adapter Utility (the "app") is used in combination with Nikon's wireless mobile adapter accessory to download pictures taken by digital SLR cameras and to release the camera shutter remotely. When the wireless mobile adapter is attached to a compatible digital SLR camera, iOS devices running the app can connect to the camera without a wireless LAN router or access point. The app can be used to download high-quality images from the camera memory card to the iOS device camera roll, share pictures, and control the camera remotely while viewing the view through the camera lens in the smart device display.