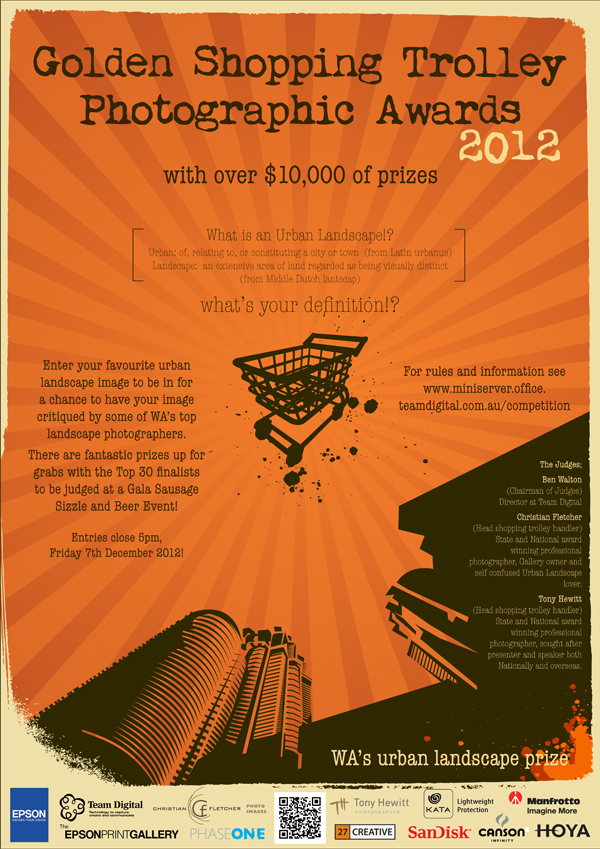 The Golden Shopping Trolley awards are on again. This year they are bigger and better than ever. For those who don'tknow what the awards are about, put simply it's a Photo Competition with the theme of Urban Landscape. The judging is done live on Gala night at Team Digital. Did we mention the prize pool is over $10 thousand including cash prizes?
So what can you win?
1st Prize $1500 Cash plus a 2 week loan of the amazing PhaseOne IQ180 camera kit valued at over $ 6400.00
2nd Prize $750 Cash
3rd Prize $ 400 Sandisk memory voucher
Best Shopping Trolley image $ 750.00 Cash
Plus some more to come.
Don't know what a urban landscape is? Here's the competition definition:
Urban Landscape is something relating to or concerned with cities, city life or densely populated areas. Urban landscape photography is usually associated with imagery within contemporary mediums, cities, buildings, streets, subways and just about anywhere human life exists and lives. It represents and expresses experiences that exist among these areas and it can sometimes focus more on the patterns or processes of those areas rather than the people.
Here's the full Terms and Conditions
This year we will also have the 30 finalists on display in The Epson Print Gallery, printed on Canson Platine Fine Art media.