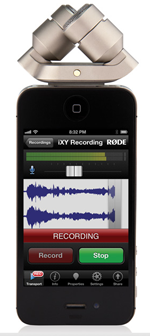 RODE have just announced the iXY, and what is the iXY. Put simply its a very clever gadget that converts your iPhone or iPad into stereo microphone recorder. RODE has done it again, we cant wait to get our hands on one of these little babies. Perfect for recording music, interviews, meetings, lectures anywhere you want top quality recording. You can even mount it on a DSLR cameras and listen to your recording on the fly.
And Team will be stocking the iXY as soon as its available stay tuned.
XY stereo recording
At the heart of the iXY is a matched pair of ½" cardioid condenser capsules, fixed in a perfect 90 degree 'near-coincident' alignment.
This results in immersive and true-to-life stereo recordings, captured in incredibly high detail.
Adjustable input level
Whether you're recording in a loud or quiet environment, from a concert to a conversation, get a perfect recording every time with the iXY's continuously adjustable input levels via the RØDE Rec app.
Designed as the ultimate companion app for the iXY, RØDE Rec turns your iPhone or iPad into a fully-featured field recorder including encoding at up to 24-bit/96kHz.
For more information or to download RØDE Rec,
visit the app store.
iXY
for iPhone& iPad.The iXY is compatible with iPhone® 4S, iPhone® 4, iPad® (3rd generation), iPad® 2 & iPad®.
Introducing RØDE iXY stereo microphone for iPhone and iPad from RØDE Microphones on Vimeo.