Very rare opportunity, second hand Epson Pro 9900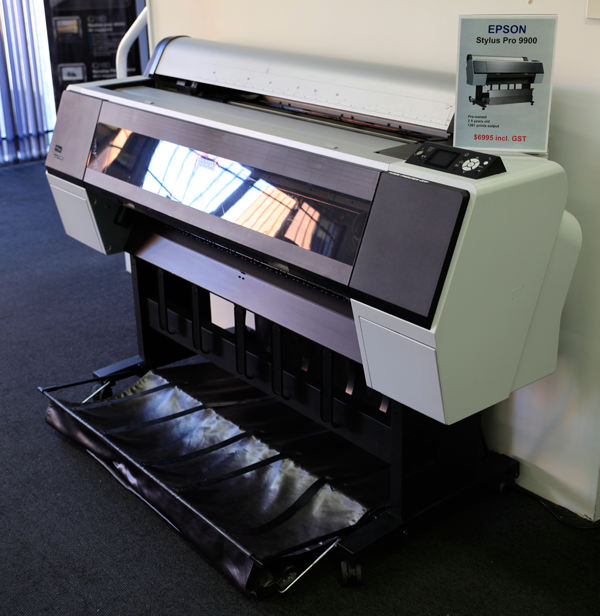 Team Digital have a very rare opportunity for you to purchase a second hand Epson Pro 9900 44' printer. This is the first one we have seen of this model. Its in good condition with only 1361 prints. With at least $3000 worth of ink in the printer.
Sold from new by Team Digital only 2.5 years old. Reason for sale, client closing business and moving over east.
So if are looking at getting into large format printing or upgrading from a smaller printer this could be for you.
Heres the specs
Epson Stylus® Pro 9900 44"
B0+ Wide Printer 44" or 111.8cm
10 Colour (11 inks onboard) Auto switching between Photo and Matte Black
Print Head MicroPiezo® TFP (Thin Film Piezo) Print Head / Automatic Head
Alignment Technology
Nozzle Configuration 360 nozzles per colour / Automatic Nozzle Check Technology
Print Direction Bi-directional printing, uni-directional printing
Maximum Resolution 2880dpi x 1440dpi with Epson Variable Sized Droplet Technology
Minimum Ink Droplet Size 3.5pl
Ink Type Epson UltraChrome® HDR (High Dynamic Range) Ink
Configuration 10-Colours pigment ink (C,VM,Y,PK,MK,LC,VLM,LK,LLK,O,G)
with 11 slots) Auto switching between photo and matte black
Ink Cartridge Individual high capacity hot swappable ink cartridge
Ink Capacity 350ml or 700ml
Price include all of Team Digital usual printer support.