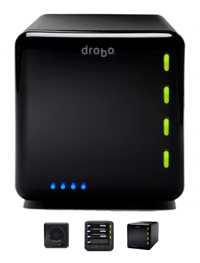 Team Digital has been selling and supporting Drobo for many years now. These little black boxes have been backing up client data for some time.
Now we'd like to introduce you to the latest Drobo arrival: the Drobo 4 bay with USB 3.0 – commonly known as Gen 3. This is an update on the very first Drobo. It still has all the usual Drobo features. In fact it doesn't really look any different to the first model, but it's less expensive and super fast – a good combination, we think. Priced between $500 and $600 this little black box is a bargain for anyone who wants expandable and redundant storage without spending your life savings.
It also comes with some added features:
Time Machine compatible: Time Capsule combined with Drobo Dashboard now allows users to select the size of the Time Machine backup volume so that Apple's OSX backup software doesn't take up all of the available drive capacity.
Power Fail Protection: In case of a power failure, all data in the memory or cache is protected by being moved to on-board flash, where it resides until power is restored and it can be moved to your disk drives.
OS Compatibility: Requires OS X 10.7 (or higher) and for Windows users, Win 7 (or above). Sorry, no XP or 10.6 for you.
This unit still has the black magnetic front cover, still has 4 drive bays and (of course) still runs the BeyondRAID array system.  You can max it out at 10.89TB (4 x 4TB Drives) with one drive redundancy.
It weighs approx. 3kg without drives and just over 6kg with drives. Just a suggestion – we've had clients who have had their Drobo stolen during break-ins: try to secure your Drobo or have it out of sight for any would-be robbers.
Setting up the new unit is a breeze – just let Team know what drives you want and we take care of the rest. Or, if you want to do it yourself, load the Drobo Dashboard Utility on your computer. Then plug the unit into the power and insert the new drives into the unit. Format the drives via the Dashboard – simple! That's what Drobo is all about: simple raid storage.

The Drobo 4 Bay Gen 3 includes:
Drobo 4 Bay enclosure
1.8m USB 3.0 cable
Power Cord with Power Supply
Quick Start Guide
Well that's the new unit in a nut shell. If you want any more info on any of the Drobo products, speak to one of Team Digital data storage experts.
Here's the link to the Drobo storage calculator, so you can calculate your exact storage requirements.