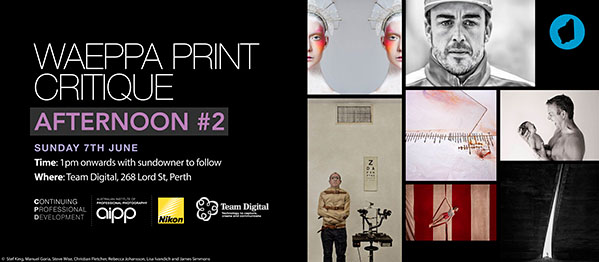 Last chance for WAEPPA Critique! 
Didn't have your images ready in time, or got some great feedback on how to improve potential entries? Make sure you don't miss our second and final Critique Afternoon before WAEPPA!
Being held at Team Digital, there will be a critique session in the afternoon, followed by a sundowner catch up.
We are accepting prints as well as digital files for critique, as there will be a lighting set up similar to judging conditions provided.
Once you have purchased your "ticket" by selecting the number of images you will be submitting, please email these images to aipp.images@gmail.com. If you are bringing prints, please email to let us know how many, and which category they will be in.
Images must be 2362 pixels on the longest side, 300ppi, RGB saved as jpeg setting 12 (same size as awards).
We will be presenting images in categories, so please rename your images with the following format:
LastNameFirstInitial-Category-number. So if Mary Smith was entering an image in wedding, it would be
SmithM-Wedding-1.jpg
Categories include: Portrait, Wedding, Family, Landscape, Commercial, Illustrative (including Fashion), Travel, and Documentary (including Sport and Birth).
Please send your images by midday Friday 5th June, we cannot guarentee display of images received after this time.
Date: Sunday 7th June, 2015 | 1pm – 5pm
Location: Team Digital, 268 Lord St, Perth
Cost: $15 for up to three images, $25 for up to five images, $40 for up to eight images.