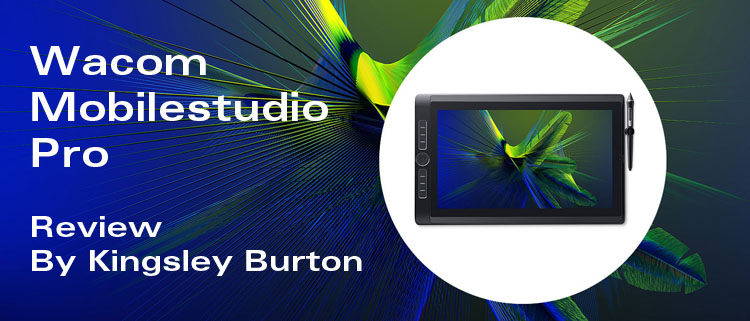 We asked our good friend Kingsley Burton to have a look at the latest offering from Wacom the Mobile Studio Pro 16″. Here's Kingsley's Mobilestudio Pro review after spending a few weeks with the unit. Our thanks to you Kingsley for taking the time to put together the review.
Wacom MobileStudio Pro review
Well I was pleasantly surprised to get an offer to review the Wacom MobileStuido Pro 16" as it came at a time when I was looking into workflow options, so thank you Ben @ Team Digital for the opportunity to have a play and ponder. So first of all, some disclaimers:
This is not a technical specification type review, more a functional review ie how it felt to use it
It is a review conducted from a working fine art photographer who is chronically short of time
It is a review done by a professional geek and gadget lover
No graft, corruption, inducements or incentives have been exchanged for this review
It's 100% my opinion based mainly on my usage of the MSP over 12 days, and the research I had conducted prior to getting the Mobilestudio.
So a little about why I came to review this device. I currently shoot primarily Nikon, though we have Fujifilm, Sony, Canon, Sigma and even film in the household. My computer preference is ecumenical as well, with Windows 10, MacOS, iOS and Android devices. My current main machine is a Windows 10 box I custom built about seven years ago, and had some components upgraded along the way like RAM, display cards and USB connections. I travel a bit and shoot a wide variety of images from macro, still life, portraits and landscape with my style being around colour and form. I enjoy post-processing and feel happiest when in a world of music whilst editing and crafting my images.
Right at this point in time the old Intel i7 based main machine is starting to groan under the weight of the current images.  I am now having to wait or to go off and do quick chores when stitching bracketed panos or macro stacks from the Nikon D810 (36.8MP).  So leading up to Christmas my partner says to me, "What do you think of the new MSP?"  Well, that's all I needed to be whipped into a frenzy and looking for real-world reviews.  They were pretty few and far between at that stage and not really a lot from a photographers perspective.  So I then called Ben about the new Mobilestudio to see if they have any in stock that I can look at.  So this is how I ended up with the Mobilestudio and overall I was pleasantly surprised and whilst I haven't bought one yet, it will be in my future kit. It is definitely something that would suit a professional photographer, photographic artist or serious enthusiast, if it makes sense for your workflow, but more on that later.
Before I start with my findings, a few details on costs.  The Mobilestudio runs in two size options 13" and 16", and in both it has a i5 chip and i7 chip with variable size SSD.  Prices for the 13" are $2,649 to $3,499, and the 16" from $3,499 to $4,299.  Yes, they aren't cheap, but if you are looking at them you probably are serious about your craft and art, and not looking for another toy.
The Mobilestudio that I reviewed was the top of the range, 16",  i7 processor, 16GB DDR3 RAM, Nvidia Quadro 4GB VRAM, and 512 GB SSD. Overall the MSP handled my 1-2GB images with ease as were filters, layers and luminosity and normal masks. I used both the SSD and current micro SD (SDXC [uhs-ii]) cards for image storage and the internal SSD. It seemed that the external SSD device I used was quicker, but it wasn't running an OS and Adobe at the same time. The screen was delicious, and matte compared to the glossy finish of the current Mac's. The screen was an amazing 4k resolution, which made zoomed in editing very easy and smoothly gradated. The screen surface was great to use, comfortable and effortless. The screen can be used left or right handed, as well as portrait and landscape orientations. The pen is new, and now something like 8K levels of sensitivity compared to 1K on the previous pens, so again, very fine control is possible.
I used it mostly plugged into power and was running various applications like Photoshop and Premiere Pro. I also use the MSP on battery and noted that battery life was variable depending on the level of work the processor and SDD had to undertake. Wacom report up to 6 hours depending on usage. My overall feeling on the battery life was that it was a little short though, but I never ran out during an editing session. I found that after a couple of hours I was ready for a break and plugged it in for a recharge. So one thing is this device is not a laptop replacement for me as I need more battery life when mobile or on location.  
Oh on the power, it has 3xUSB-C ports so the power plugs into one of those. The ports will currently require dongles until manufacturers catch up with USB-C devices, which they are starting to release. I actually bought a G:Drive USB-C SSD drive whilst I was using the Mobilestudio and it was zippy. Personally, I think USB-C will become the new default and whilst there is some hysteria around the new MacBook Pro, I suspect this will resolve once more devices are available.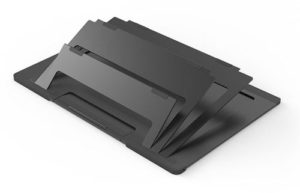 For my workflow and usage I would need a stand, which is an optional extra at $149. I prefer working on an angled surface rather than a flat surface. What I noticed on the flat surface was all the overhead lighting was being reflected in the surface.
I would recommend the 16" over the 13" as the normal Windows environment gobbles up space so the actual image size you work on is smaller, so bigger is better. However, that probably means you will need to use the Wacom MSP bag at $58.99, as it won't fit in my current bags. Hmm, maybe I need another photography bag!
The screen is matte, which I have already mentioned, and high resolution 4K which was beautiful. It is bright and has good contrast range, which is important to me as most of my processing is about contrast adjustments. One thing to watch out for is at 4K resolution text gets a little small for older eyes late at night. The colour is fabulous with Wacom reporting 96% of the Adobe RGB colour space, compared to the Microsoft Surface 67% and the MacBook Pro 81%. For videography work this means 98% DCI-P3 coverage, though I have no idea what that means, I had to look it up.
Parallax issues are markedly reduced compared to older Cintiq's and the Companion's. This is where the tip of the stylus does quite line up with the position on the screen. This is usually worse at the very edges. Whilst I did note some at the very edges, it is significantly better and hardly noticed.
Being a Wacom product and coming from an impressive lineage the touch and pen functionality is exceptional. It has eight programmable express keys, the radial dial which now has fingerprint recognition and of course the radial menu feature. Normal touch usage will leave fingerprints marks on the surface, but unlike my laptop, tablet and phone, these are easily removed with a microfiber cloth and water.
The build quality is great, solid, well thought through ergonomics, an SD card slot, Kensington lock port, 802.11 Ac wifi, Bluetooth, front (5MP) and back (3D scanning camera) cameras and an expandable storage slot.

It comes with Windows 10 Pro, which nowadays is very easy to connect to a home or the office Wi-Fi network. As we run Mac and Windows machines at home, the Windows 10 isn't an issue to do, though some people might have to take an extra 30 minutes to familiarise themselves to the Windows 10 environment. Inside the Adobe Creative Cloud suite it all looks the same.
So in short it is like a laptop/Intuos Pro replacement device all rolled in together and it performs very well.
So I liked:
Design and ergonomics
Performance
Connectivity
Card reader
Matte screen
Lack of parallax error
Customs keys, radial dial and radial menu
USB-C
What I think I would like to see Wacom improve
Battery life
Weight
New or modified workflow
So would I recommend one for you? Well the short answer is: it depends. What I did notice using the
Mobilestudio was I got very clear what my personal workflow and style was. Nothing was a show stopper and all issues had a number of options to work around them. For example, I grew up using Photoshop, when digital image processing was in its infancy some 25 years ago. As such I am very proficient with keyboard shortcuts that I use in my workflow.
Using the Mobilestudio means you either need to use menus only, use the touch keyboard, use an external keyboard or use the radial menu. I took the plunge and worked out my common commands and their hierarchy and was then able to program the radial menu to do those commands, which was something I hadn't done with my Intuos Pro and previous tablets, though I suspect I'm not alone there. So the use of the Express Keys and Radial Menu mean that you won't have to put your pen down or get a separate keyboard.
The USB-C thing and dongles might be an issue for some, but again the devices are coming out now in that format so that won't be a big issue. Onboard storage is not bad, though I would have preferred 1 TB. The Mobilestudio does have an expandable slot for memory card expansion or external drive.  For my workflow I currently have my main library on a Drobo connected to the network/cloud, so I am familiar with working with files off the main OS/Program drive.

Profiling the screen is doable, but you need the Wacom calibrator and the Wacom software to get the maximum performance, according to the Wacom site. I have my own Xrite i1 Pro 2 but didn't get a chance to install the software and see if that would also work. Having to buy another calibrator would be a pain given the investment I have made in the i1 Pro 2.
Performance was very good and I used Adobe Photoshop, Adobe Photoshop Lightroom and Adobe Premiere Pro. I also used DxO Pro and Capture One Pro, as well as filters from Nik Google, Topaz, DxO, MacPhun and Alien Skin.
I had read about the speakers not being absolutely fantastic, but other than the system sounds I didn't test it. It does come with a headphone jack so I suspect that will improve the sound experience. What I did find was I was able to go to the lounge room and sit in a comfy chair whilst listening to the main hi-fi, because its mobile.
The biggest issue I had was modifying my working style to work on a standalone device. With the addition of a stand, keyboard and link device, then I'd be right as. For me the Mobilestudio enabled me to spend more time with my partner, not locked away in a very noisy room editing. We were able to chat and do normal stuff whilst I edited around the house and outside.
The critical issues I think you should consider before buying one of these devices is:
How do you currently like to work (edit)?
How would you like to work in the future?
How much are you willing to invest in modifying your workflow for a different input device?
How long do you normally edit for at one time?
Is 2-4 hours battery life an issue or are you going to be using mains power? *
Are you willing to learn to use the MSP features?
Is Win10 or USB-C an issue for you?
Is the cost prohibitive/is it value for money for you?
* The 2 hour battery life was during extremely heavy use, which would not normally be encountered in everyday use.
Overall, I enjoyed using Wacom's new pen computing device and those who used previous Wacom devices will know its quality and functionality is very good. I hope this short review helps clarify some of your thinking about the device, or at least helps you ask questions that will be of help to you in decided if this is a device for you. Again, thank you to Ben and Team Digital for the opportunity to review the MSP.
Check out the range of Mobile Studio Pro tablets