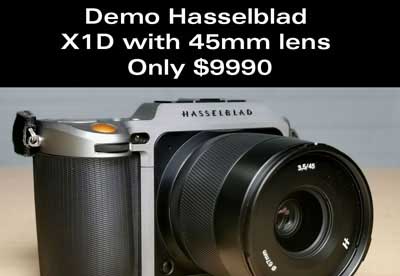 Team Digital has a great opportunity for you to get into the world of Medium format. We are clearing our demo Hasselblad X1D system. The XID is a 50 Megapixel Mirrorless camera system. With the latest upgrades complete with a 45mm at only $9990 it could be a great start to your Medium format journey.
Now Only $7500 inc GST 
We also have a couple of XCD lens in new condition
XCD 90mm F3.2  $ 3400
The XCD 90mm is the ideal portrait lens for the X1D. Its moderate telephoto focal length provides a 71mm full frame equivalency, making it the perfect portrait lens.
XCD 30m F3.5  $ 4700
The XCD 30mm is a wide angle lens for the X1D. Its focal length provides a 24mm full frame equivalency, making it the perfect landscape, reportage and travel lens.
Like the iconic V System, the X1D seamlessly combines portability with excellent optical quality for which the brand is renowned. Hasselblad has ingeniously introduced mirrorless technology to digital medium format for the first time ever, creating a precision performance camera that can sit in the palm of your hand. The 50MP CMOS sensor captures fine details with true natural colours.
SENSOR

The tried and tested 50MP CMOS large sensor integrates seamlessly with the X1D, producing ultra-high quality results.

SHUTTER SPEED RANGE

With a range covering 1/2000th to 60 minutes, any situation – day or night – can be captured effortlessly.

CONNECTIVITY

We're using the latest technologies to ensure the X1D delivers on its promises: USB 3.0, Wi-Fi & GPS as standard to ensure fast data transfer and flexibility.

DURABILITY

The X1D's rugged body is milled from aluminium to provide a strong and durable build.

LENSES

Our XCD Lenses perfectly complement the X1D's diminutive build and offer razor-sharp results, 
edge-to-edge.

VIDEO

The narrow depth-of-field associated with medium format cameras gives an unrivalled look and bokeh to your footage.