Epson has announced its first 12 colour large-format printers offering their widest ever colour gamut. It's Epson most advanced P series printer ever. Which has a lot more going for than just an extra colour. The SureColor P7560 (24-inch) and P9560 (44-inch) are ideal for Photographers and Artists for excellent colour reproduction and more. Epson's newly-developed UltraChrome Pro12 ink set, with K3 technology, which outputs both black inks simultaneously, and includes orange, green and violet, giving the user impressive colour accuracy.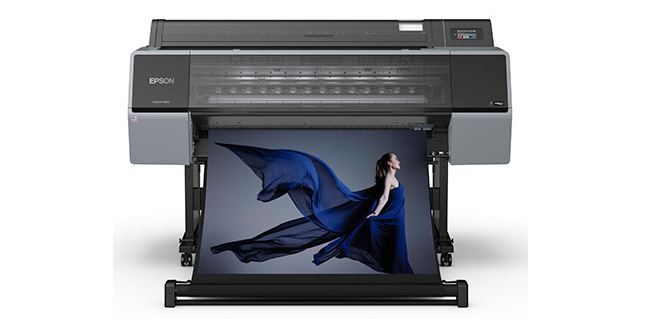 So what more has it got going for it lots.
Superfast  – new 2.6″ printhead performs at speeds up to 4 times faster than our previous generations
Save time and money with Realtime Photo and Matte Black ink switching – dedicated nozzles for both black ink types
Better Blacks with New Black Enhance Overcoat gives improved density, contrast, reduces bronzing and gloss differential.
Simple User Maintenance which allows the end-user to clean the print head simply. 
New Print catcher for small prints as well as large ones. 
Calibrated Internal view light, check your prints out as you are printing. 

Thats just to name a few of new features the new Surecolor P7560/P9560 has.
Supreme Image Quality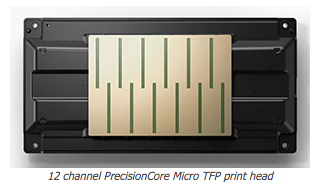 The SureColor P9560 series features Epson's patented PrecisionCore Micro TFP head technology with a 2400x1200dpi resolution. Unlike competing mechanisms that are based on heat, the Epson print head uses an electro-mechanical movement that is kinder to the ink chemistry, for better imaging with more stable output. While consuming less power and less ink, it is also more accurate, flexible and durable. Micro-fine drop-on-demand nozzles enable precise dot shaping, placement and volume/density control for more consistent results with less wastage.
Variable-size Droplet Technology (VSDT) enables superior half-tones and optimised colour density with minimum ink consumption. Twelve active channels are driven by an advanced LUT (Look-Up-Table) and a 12 cartridge ink supply system to provide an enhanced colour range. Dedicated Matte / Photo Black ink lines ensures the maximum possible dynamic range is achieved on a wide variety of media types and there is no extra ink wastage. Self-monitoring, alignment and cleaning systems ensure a predictable, consistent and reliable output with minimal user maintenance.
When Epson launched UltraChrome K3 it established a new standard for aqueous (water-based) ink technology. Epson has created a new ink for the SureColor P9560 series, the UltraChrome Pro12 ink set which adds an extra black(grey) ink to give this printer 4 blacks and 8 colours which increases the colour gamut even wider than its predecessor. With the addition of ink sub tanks, you will have the certainty your print job will keep printing if the ink runs out. Using an all-pigment formulation, it produces prints that dry quickly to become water and scratch resistant with a high Dmax. Colour is stable in just 30 minutes and can remain lightfast for approx 60 years*.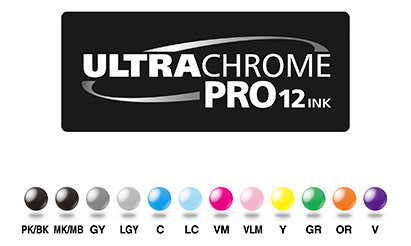 The SureColor P9560 printer has been designed for professional and commercial applications. All models feature fast and flexible networking facilities. They have a new 4.3″ touch screen with an easy to follow menu system and in-built help. The printer can be configured remotely and has driver software available to suit most operating systems. Ink cartridges are pressurised to ensure maximum output precision and feature an enhanced capacity for extended operation and a reduced cost per print. The printer confirms Epson's corporate directive for cost-effective and durable operation with minimum environmental impact. It consumes Less Power and Less Ink is used to produce Superior Quality Print. Its large 700ml ink cartridges are also cheaper to purchase.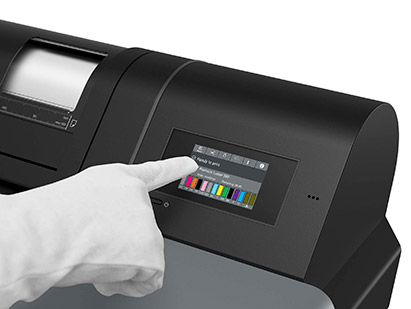 These two P-Series models have been developed for a range of applications, including:
Professional photographers & fine art production who demand the highest print quality to make their art more marketable to the discerning buyer. In addition to the 12-colour ink set, the Epson designed, advanced printheads use up to 800 nozzles for each colour, to produce accurate dot placement and eliminate misprints. They combine high-speed production with quality, thanks to the TFP12 printhead with 300dpi resolution and 12 channels. Images also benefit from smooth gradations and accurate texture reproduction. Deeper blacks are achieved through black enhancement overcoating technology which results in even more striking and dramatic printed images. For those who value true creative freedom and need to print on a wide variety of media, the P7560 (24-inch) and P9560 (44-inch) support fine art papers, canvases, photo paper and more.
For packaging and contract proofers, for whom precision matters, Epson has raised the industry standard for proofing.  With colour measurement, checking and correction technologies, users can work with more efficiency and greater confidence. An optional SpectroProofer with photospectrometer leads to faster and more accurate colour measurement and the in-line proofing colour control is fully automated. In short, results are unerringly predictable.
And you get into the Surecolor P9560 for under $100 per week over 3 years.  Let WA's Inkjet specialist Team Digital show you how. For an information pack on either of the Surecolor P7560 or P9560 contact Ben on ben@teamdigital.com.au