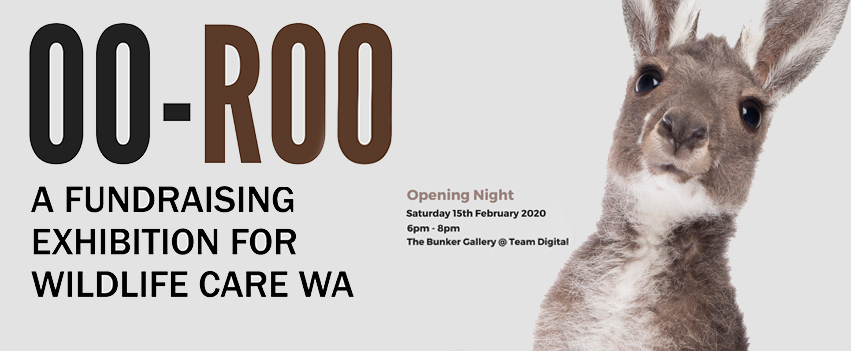 Houndstooth Studio and Team Digital are proud to invite you to 'OO-ROO', an excellent fundraising exhibition for Wildlife Care WA inc.
Opening Night
Saturday 15th February 2020
6:00pm to 8:00pm
Exhibition on display
Saturday 15th to the Friday 21st February 2020
Please ring 9328 3377 to confirm Bunker Gallery opening hours.
Join us on opening night and view a selection of adorable rescue joey portraits captured by Alex Cearns OAM. Each image will be available to purchase as an A4 ($55) or A3 ($75) print, with full proceeds going to Wildlife Care WA.
All of the joey subjects photographed by Alex have been rescued and rehabilitated by the dedicated volunteers from Wildlife Care WA. This grassroots organisation works tirelessly to rescue kangaroos from an array of situations (including fire grounds), lobby councils, liaise with land developers, and conduct education programs in schools.
Every joey is in care for approximately 18 months and costs in excess of $1500 over that time, not including vet treatment. Wildlife Care WA don't receive any government funding and in most cases, their carers pay these costs.
Please join us at 'OO-ROO' and help support WLCWA's valuable efforts to protect and conserve our wildlife.
Cruelty-free snacks and a welcome drink (beer, wine, water, soft drink) will be provided.
Many thanks to event sponsors Epson and Ilford Imaging Australia for their valuable support.
Entry is free but tickets are limited.