Here's a nice little new year surprise from Wacom: the new Wacom One, a 13″ Creative Pen Display.
 While there's other 13″ Creative Pen Displays in the Wacom range none of them sell for $599 (yes $599, that's right). This opens up the opportunity for everyone to discover how great it is to create and edit on a Creative Pen Display and not have that separation between your screen and mouse. If you're a creative of virtually any type that's using a mouse or even a Wacom Intuos then the Wacom One will allow you to be more creative and more productive.
Screen
The Wacom One has a 13.3″ screen – almost the same size as a standard A4 sheet, so large enough for most applications. It's also HD 1920 x 1080 so you're able to see fine detail. Тhе Wасоm Оnе dіѕрlау hаѕ bееn dеѕіgnеd tо mіmіс а nаturаl ѕurfасе frісtіоn wіth mіnіmаl rеflесtіоn ѕо thаt іt fееlѕ lіkе уоu're асtuаllу drаwіng оr wrіtіng оn рареr аnd nоt glаѕѕ. Еquаllу, thе Wасоm Оnе pеn fееlѕ јuѕt lіkе а nоrmаl реn аnd іѕ јuѕt аѕ ассurаtе tоо. Аlѕо, thеrе'ѕ nо nееd fоr bаttеrіеѕ ѕо thе pen has а nаturаl wеіght tо it thаt fееlѕ аnd lооkѕ rіght іn уоur hаnd.
Pen
The Wacom One replacement pen is designed for use Wacom One creative pen display. The pen is cordless, battery-free, has 4096 levels of pressure, and a programmable side-switch to put shortcuts at your fingertips.
You can now use aftermarket pens from the likes of Staedtler, Lamy, and Samsung with the Wacom One.
Connectivity
The Wacom One has much more going for it beyond the $599 price tag. It's Windows and Apple compatible, it's also compatible with selected Android devices. Connectivity is really simple – one split cable with HDMI, USB, and Power.
Here's a list of currently supported Andriod devices: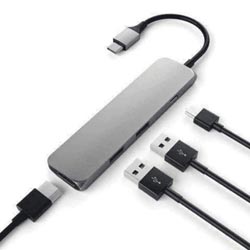 Samsung Galaxy S8
Samsung Galaxy S10+
Samsung Galaxy Note 8
Samsung Galaxy Note 9
Samsung Galaxy Note 10
Samsung Galaxy Note 10+
Huawei P30
Huawei P20 Pro
Huawei Mate 20 Pro
Huawei Mate 30 Pro
While we haven't been able to test this yet, we believe that if you plug a Satechi Multiport adapter into your Android device via USB-C then you can simply plug the Wacom One X cable into the HDMI and USB into the Satechi and you should be good to go. Obviously we would like to try it first (perhaps on my Huawei P30 – I really can't wait!). Not sure what I'll do with a 13″ Android but I'm sure it's going to fun finding out. We anticipate that the same Satechi adaptor will work with any new, USB-C only computer (e.g. MacBook Pro).
Software
The One comes complete with a great software package, which includes Clip Studio Paint, Bamboo Paper, Adobe Premiere Rush, and Adobe Fresco. Please note these are a limited, free subscription.
Options
If you want the ultimate in productivity tools the ExpressKey Remote is compatible with the Wacom One. If you don't know what the ExpressKey remote does, drop into to Team so we can show you how powerful this little device is. Another Wacom accessory that's also compatible with the One is the Wireless Keyboard.
I'm sure you'll agree the Wacom One represents amazing value as well as a great feature set. Come in and check it out at Team Digital's Wacom Touch Centre.
We look forward to doing an in-depth review of the Wacom One when it comes in.
Check out the Wacom Shop.